Hollywood fashionistas often inspired the Bollywood celebrity wardrobe. Taking inspiration from a dazzling statement from the west is nothing wrong but repeating the exact outfit for a grand show stick into public eyes. Well, copying an outfit or donning an original creation, Bollywood Divas' will always get the heart of our attention.
Today we will share some hit and miss instances of repeated robes from Hollywood donned by Bollywood celebrities.
Deepika Padukone: Deepika Padukone's outfit for Filmfare 2014 was golden skinny combination outfit, an absolute show stunner but turns out it was copied from Lady Victoria style statement only difference was the colour between two dresses. 'Piku' starrer Deepika appeared with copied outfits several times. The actress donned the exact outfit copied from Zoe Saldana, Kylie JennerJulie Marie Berman, Kylie Minogue, Malese Jow, Jennifer Lopez, Shakira and others.
Sonam Kapoor: Sonam Kapoor is one of the most influential fashion icons of the Bollywood industry. From Dior to Anamika Khanna, her wardrobe collection has it all. The actress was also spotted with an identical outfit from Hollywood celebs like Amy Adams, Jennifer Lopez, Jennifer Lawrence, Kelly Brooks, Elie Saab, Katy Perry.
Priyanka Chopra: Priyanka spotted wearing the same outfit of Naomi Harris' on a red carpet event. Her outfits also matched as same from the Hollywood celeb Rihanna, Megan Fox, Liz Hurley, Jennifer Lopez, Katy Perry.
Katrina Kaif: Katrina Kife spotted wearing this bubbly blue dress which was seen on Kim Kardashian previously.
Aishwarya Rai Bacchan: Aishariya Rai Bocchon was spotted with the same outfit for Cannes 2014 which Kristin Chenoweth had worn a few weeks ago before Cannes.
Disa Patani: Disa Patani has made quite a fashion statement in the Bollywood industry now. The actress was recently spotted wearing a replica of Gigi Hadid's wardrobe. The black keyhole gown donned by Disha had worn by Gigi at the AMA presentation.
Kareena Kapoor: Bebo of Bollywood has a significant fashion taste in the industry. Kareena Kapoor totally rocked a red bodycon dress and the same outfit worn by the American singer writer Demi Lovato for an event in LA. Mrs Kapoor also donned a replica outfit from Kim Kardashian and both owned the look of the Tom Ford dress.
Alia Bhatt: The satin saffron Dior dress was spotted on Alia Bhat for some event. The same outfit was donned by JLo previously. Both nailed the look of this pretty collection.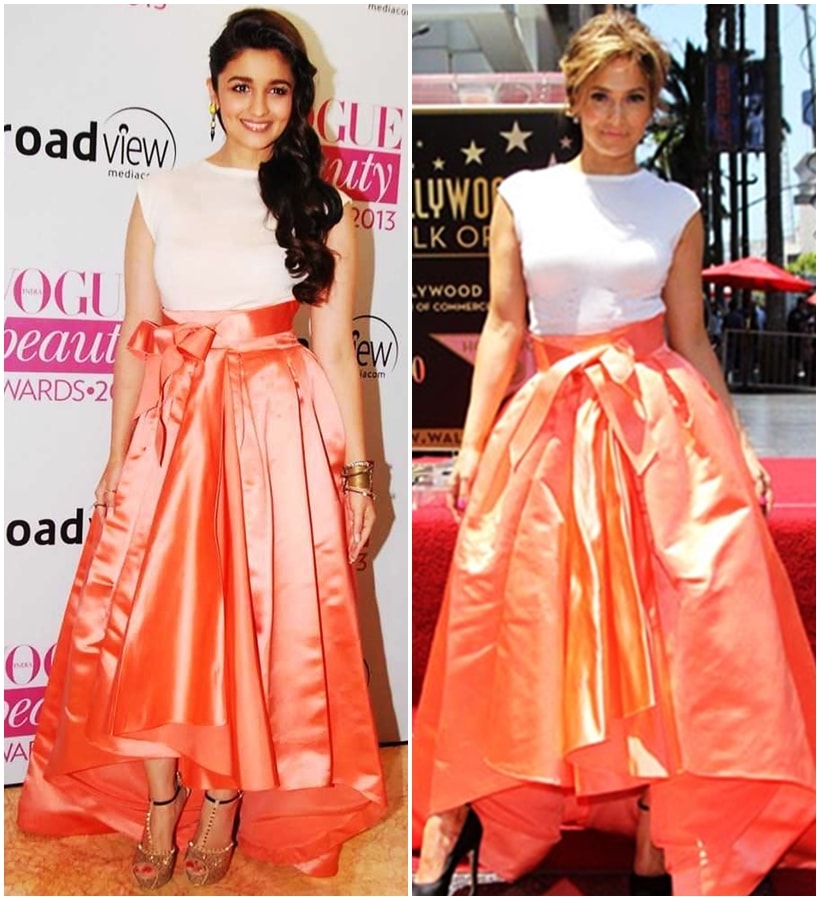 We can not judge who copied whom finally but we can express about who's look is more eyecatching than the others.
The following two tabs change content below.
Latest posts by Swati Suvra (see all)