The nerve-wracking climax of the ICC Cricket World Cup 2023 left cricket enthusiasts across India stunned. The Narendra Modi Stadium in Ahmedabad bore witness to a fierce clash between India and Australia on November 19, 2023. India, having maintained an impeccable record with 10 consecutive victories leading up to the final, experienced a devastating setback that shattered their championship aspirations.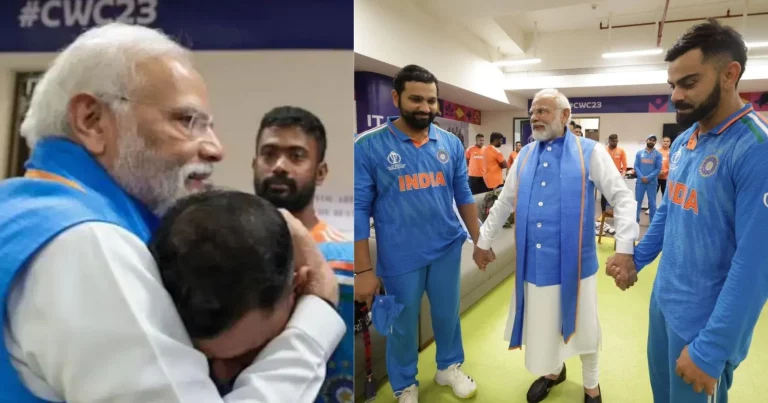 In a match that kept fans on the edge of their seats, India could only muster a total of 240 runs in the final. Despite notable performances from Virat Kohli, and KL Rahul, and a brisk start from Rohit Sharma, the Australian bowlers emerged as a formidable force. However, the turning point occurred in the second inning when Australian batsman Travis Head played a remarkable 137-run innings, steering the game away from India. Head's impactful display mirrored his earlier successes in the ICC World Test Championship, compounding India's disappointment.
The aftermath of the defeat was evident as the Indian players, including stalwarts like Siraj, Kohli, and Rohit, were visibly disheartened.
Tears flowed freely in the dressing room, depicting a scene of profound disappointment. The collective effort and nearly flawless tournament run culminated in a bitter defeat, leaving the players shattered.
Amidst the somber atmosphere, Prime Minister Narendra Modi, a spectator at the stadium, extended his support to the dejected team.
In a video shared by the PMO, PM Modi can be seen individually consoling the players, offering words of encouragement and solace.
Watch: https://x.com/ANI/status/1726818000458903713?s=20
Addressing the team, PM Modi acknowledged their exceptional journey, stating,
"Aap log poor 10-10 game jeet ke aaye ho, yeh toh hota rehta hai. Muskuraiye bhai, desh aap logon ko dekh raha hai." (Translation: "You have won 10 consecutive games. This one loss is normal; it keeps on happening. Please smile; the entire country is watching you.")
Displaying a personal touch, PM Modi spoke to players in their native languages. To Rohit Sharma and Virat Kohli, he said, "Hota hai (it happens)," while holding their hands. Engaging with Ravindra Jadeja in Gujarati, the PM shared a lighthearted moment, showcasing camaraderie amidst the disappointment.
https://www.instagram.com/reel/Cz5ZnobyCGB/
PM Modi, not overlooking individual achievements, embraced Mohammed Shami, the tournament's top wicket-taker, expressing, "Arrey Shami, bahut accha kiya iss baar. (Well done, Shami. You played well this time)," acknowledging Shami's outstanding performance. Addressing Jasprit Bumrah, he inquired about his knowledge of Gujarati, emphasizing the personal connection.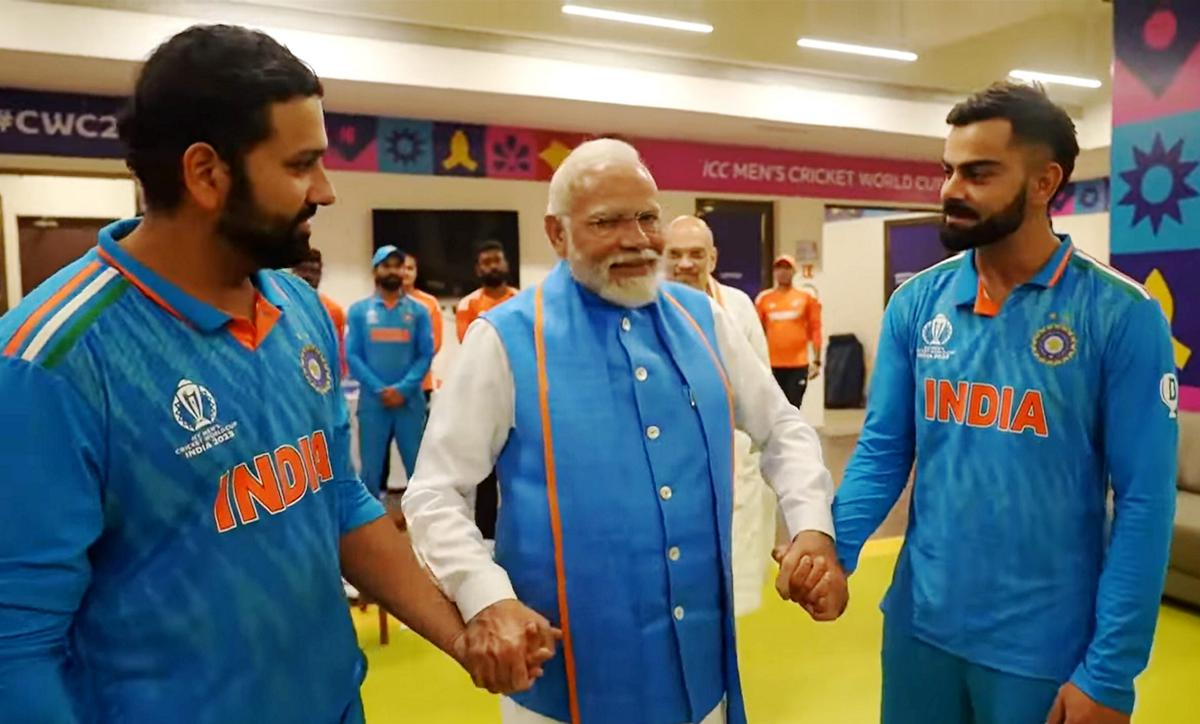 Commending the team's hard work and exceptional dedication, PM urged them to stay united and motivated. His heartfelt invitation to meet in Delhi when the players are free demonstrated a genuine desire to uplift their spirits and celebrate their efforts.
PM Modi said,
"Toh, aap sab log bahut acchi mehnat kare ho. Chaliye, hota hai. Aur saathiyon zara ek doosre ka hausla buland karte chaliye. Aur jab aap log zara free honge aur Delhi aayenge toh baithunga aap sab ke saath. Meri taraf se nimantaran hai aap sab logon ko. (You guys have worked hard and played exceptionally well. Just stick together and keep on motivating each other. Also, whenever you guys are free and are in Delhi then let's meet again. You all are cordially invited from my side.)"
While the defeat in the ICC Cricket World Cup 2023 final was undoubtedly disheartening for Indian cricket fans, Prime Minister Narendra Modi's response showcased a leader's empathy and encouragement.
Also read: https://funniestindian.com/bcci-discloses-the-head-coach-for-india/