Who doesn't love momos? Though momos are originally from Tibet and Nepal, but they are now famous in all parts of India and are one of the most loved and popular dishes in India. Be it any season or time, people just love eating this dish.
Initially, only steamed veg and non-veg momos were sold in the marks but with time, several other versions of momos like fried momos, tandoori momos, etc started receiving love as well. However, have you ever heard about fire momos?
Well, food experiments seem to be a popular trend in the business and it looks like the trend is not dying anytime soon. The street food vendors have taken up a challenge to experiment with famous dishes with random ingredients to invent something extra-ordinary. However,  that started as 'fusion food' have turned into a 'food crime scene'.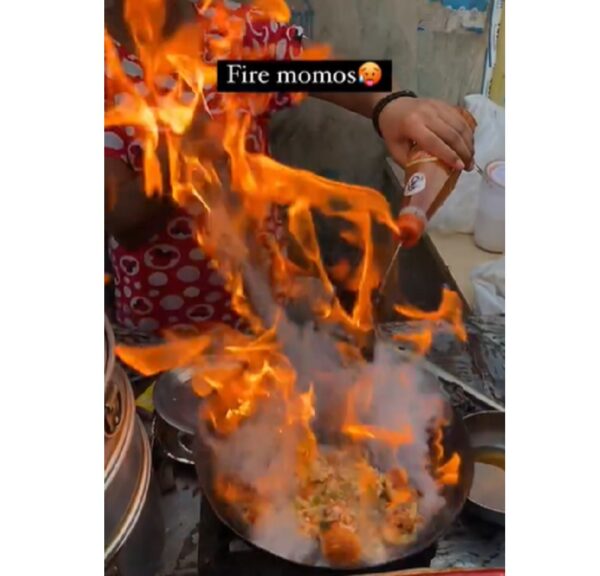 Lately, a video has been going viral on the internet where a street vendor is seen cooking fire momos. Yes, you read that right! The video has been shared by a Delhi-based food blogger Hardik Malik via his official Instagram account. In the video, the momo seller can be seen tossing some momo pieces in hot oil. After frying the momos, the oil is removed and chopped vegetables are added along with some sauces.
At one time, during the making of this dish, the momos inside the pan catch fire but the vendor keeps on mixing the dish and serves it later on a plate.
Here, watch the video:
https://www.instagram.com/reel/CVK_4I1oHx6/?utm_source=ig_web_copy_link
The video and the dish haven't gone down well with the food lovers, who are now trolling the street vendor left, right, and center for turning momos into a 'sabzi'.
Here, check out the reactions of angry foodies on this viral video: