A month ago, on January 24, 2023, a bombshell report was released by Hindenburg Research, shattering the portfolios of Adani investors to the tune of roughly Rs 12 lakh crore.
Stocks of Adani Group firms have taken a nosedive after the publication of the Hindenburg report on January 24, knocking 60-year-old Gautam Adani from third to 29th on the list of the world's wealthiest people.
According to a report by TOI, Adani Total Gas has seen a market value decline of Rs 3.4 lakh crore since January 24th, while Adani Green Energy has seen a decline of Rs 2.21 lakh crore, Adani Transmission has seen a decline of Rs 2.23 lakh crore, Adani Enterprises has seen a decline of Rs 2.34 lakh crore, Adani Power has seen a decline of over Rs 46,000 crore, Adani Wilmar has seen a decline of over Rs 25,000 crore.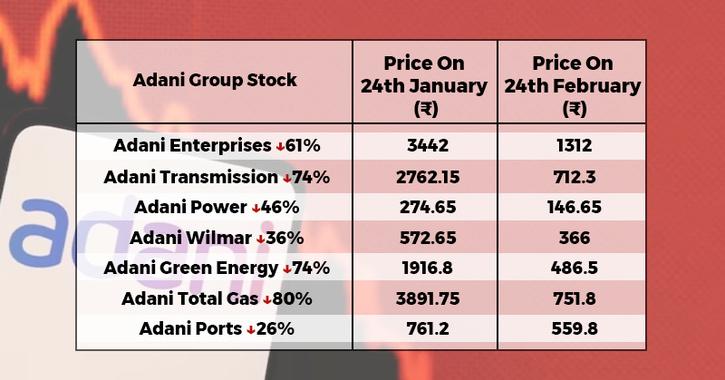 Compared to its 52-week high, Adani Green Energy stock has performed the worst, losing 84% of its market value. The price of a share in Adani Transmission has dropped 83% from its yearly high, while a stake in Adani Total Gas has dropped 81%.
Adani Enterprises, the main company in the group, has seen its value drop by 67% from its 52-week high since the stock market crash forced it to abandon a Rs 20,000 crore initial public offering (FPO). In addition, Adani Ports shares are down 43% from their 52-week high, per an ET article.
In the previous month, the Hindenburg report has been discussed in the halls of Parliament, the Supreme Court, regulatory agencies, and throughout the world.
Against the background of the Adani Group stock fall, the Supreme Court of India directed the Union to consider establishing a team of domain experts headed by a former judge to look at improving the regulatory framework to safeguard the interests of Indian investors against market volatility.
Another blow to Adani Group came earlier this month when Credit Suisse, the second largest bank in Switzerland, and the wealth arm of Citigroup both decided to quit lending to the company. Also, the group's main firm, Adani Enterprises, was delisted from the Dow Jones Sustainability Indexes as of February 7th.
Adani Ports and the Special Economic Zone were both included on the February 3 F&O prohibition list of the National Stock Exchange of India. To further limit short-selling, on February 3, 2023, the NSE additionally placed Adani Ports, Adani Enterprises, and Ambuja Cements within the Additional Surveillance Measure (ASM) framework.
George Soros, a billionaire investor, criticized India's prime minister only last week, stating that although India is a democracy, Modi "is no democrat."
George Soros has said that the upheaval caused by Adani would cause Prime Minister Narendra Modi's authority to erode, which will afterwards lead to a "democratic resurgence" in India.
Adani Group has prepaid certain debts and emphasized the robustness of its financial sheet and business strategies in an effort to calm investor concerns. Nevertheless, investors don't seem to be persuaded. According to the article, those who try to grab the falling knife at Shop counters end up with serious injuries.
Adani Group has also comforted investors by revealing that the group has cash reserves of Rs 31,650 crore.