In a recent interview on Saturday, the former Indian all-rounder made a remarkable disclosure, stating that he and Dhoni are not close friends.
Yuvraj Singh and MS Dhoni are celebrated figures in India's recent World Cup triumphs. Dhoni led the team to victory in the 2007 T20 World Cup and the 2011 ODI World Cup, while Yuvraj shone as India's standout player in the inaugural World T20 and was honored as the Player of the Tournament in 2011. Despite both having retired from international cricket, they remain the standout middle-order batters in India's white-ball cricket history.
However, in light of recent revelations over the past couple of years, questions have arisen regarding Yuvraj's personal relationship with Dhoni.
In a recent interview on Saturday, the former Indian all-rounder made a surprising declaration, stating that he and Dhoni are not as close as many may have assumed.
During a conversation on TRS Clips on YouTube, Yuvraj disclosed that their friendship was primarily forged through cricket, but they weren't as close off the field due to their differing lifestyles. He candidly admitted that during his tenure as Dhoni's deputy when Dhoni was the captain, he often disagreed with many of Dhoni's decisions. However, Yuvraj also expressed his appreciation for a moment when the legendary wicketkeeper provided a reality check regarding his future just before the 2019 World Cup, revealing that the selectors were not considering him for the squad.
"Me and Mahi are not close friends. We were friends because of cricket, we played together. Mahi's lifestyle was very different from me, so we were never close friends, we were only friends because of cricket. When me and Mahi went on the ground, we gave more than 100% to our country. In that, he was captain, I was vice-captain. When I came into the team, I was 4 years junior. When you are captain and vice-captain, there will be decision differences.

"Sometimes he made decisions I didn't like, sometimes I made decisions he didn't like. That happens in every team. When I was at the end of my career, when I wasn't getting the right picture about my career, I asked him for advice. He was the guy who told me that the selection committee is not looking you right now. I was like, at least I got to know the real picture. This is just before 2019 World Cup. That is the reality,"
he said.
Yuvraj went on to clarify that players on the same team don't necessarily need to be the closest of friends, emphasizing that what truly matters is their commitment to performing their best on the field for the team. He shared a memory of a time when he had assisted Dhoni in reaching his century, and Dhoni had reciprocated by helping him achieve a crucial fifty during their partnership, highlighting the camaraderie and mutual support that existed within the team.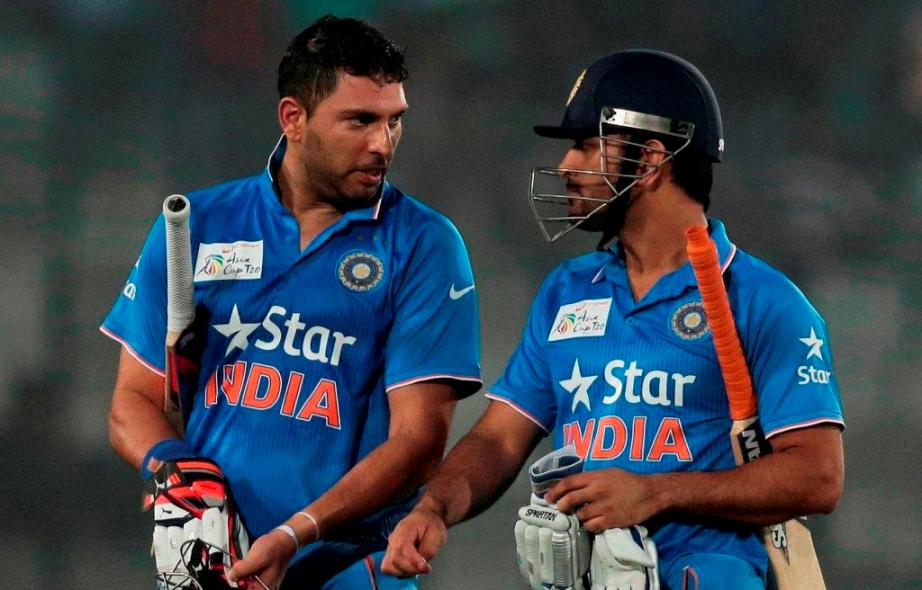 "Your teammates don't have to be your best friends outside the field. Everybody has a different lifestyle, skill set. Certain people hang out with certain people, you don't have to be best friends with everyone to go on the field. If you take any team, all eleven don't get along. Some do, some don't. When you are in the park, put your ego behind you and contribute on the field.

"There were times when MS was injured, I was a runner for him. I remember there was one moment when he was in 90s, I wanted to give him the strike to help him reach his 100. I remember diving for him, for his second run, as he was in 90s.

"When I was batting in a World Cup match, I was 48 against the Netherlands. There were 2 runs to get and Mahi blocked both the balls so that I get 50,"
he added.
Yuvraj also reminisced about the 2011 World Cup, where he was expected to bat after Virat Kohli's dismissal, but to his surprise, it was Dhoni who walked out to bat next. While he didn't delve deeply into the details or his feelings at the time, the 41-year-old concluded by affirming that he and Dhoni still meet as friends and maintain a strong rapport, underlining that their friendship persists despite the ups and downs they may have experienced in their cricketing journey.
"In the World Cup final (2011), it was decided if Gauti (Gautam Gambhir) gets out, I'll go, if Virat gets out, Dhoni goes. That thing is more important than friendship. We were hardcore professionals. I wish him well, I know he wishes me well.

"He is retired, I am retired. When we meet, we meet like friends only not like 'I don't want to get to know you'. We shot an ad together too, and had fun talking about our past days,"
the former Indian cricketer said.