The present ICC One-Day International World Cup 2023 has been witness to Mohammed Shami, India's fast-bowling star. His exceptional wicket-taking powers have captivated the cricketing world, and his recent stunning performances against New Zealand and England have left fans and pundits speechless.
Shami demonstrated his outstanding talents with a magnificent five-wicket haul against New Zealand in Dharamsala, finishing with incredible figures of 5/54. His incredible ability to swing the ball both ways and extract bounce from the pitch perplexed the Kiwi batters. This effort not only sealed India's triumph but also engraved Shami's name in cricketing history.
The enthusiasm carried over to the encounter with England in Lucknow's Ekana Stadium. Shami destroyed the English batting order with his excellent line and length, taking 4 for 22. This vital contribution was key in India's sweeping 100-run win against the reigning champions, cementing India's standing as a tournament favourite.
Shami's path in the ICC ODI World Cup 2023 has been nothing short of remarkable. His exceptional form has enabled him to smash records at an unbelievable rate. He became the quickest player in 50-over World Cup history to capture 40 wickets. What makes this accomplishment even more astounding is that he accomplished it in just 13 bouts. Shami's consistency and ability to produce under duress are qualities that every fast bowler strives for.
Shami's outstanding performance received praise not just from the cricketing community, but also from unexpected sources. Kendra Lust, an American adult film actress, resorted to social media to show her love for Shami's outstanding bowling numbers against England. Her acknowledgement gave a fascinating layer to the evolving story, confirming Shami's outstanding abilities' worldwide appeal.
[WATCH] Adult Actress Kendra Lust Reacts After Mohammed Shami's Spell In World Cup 2023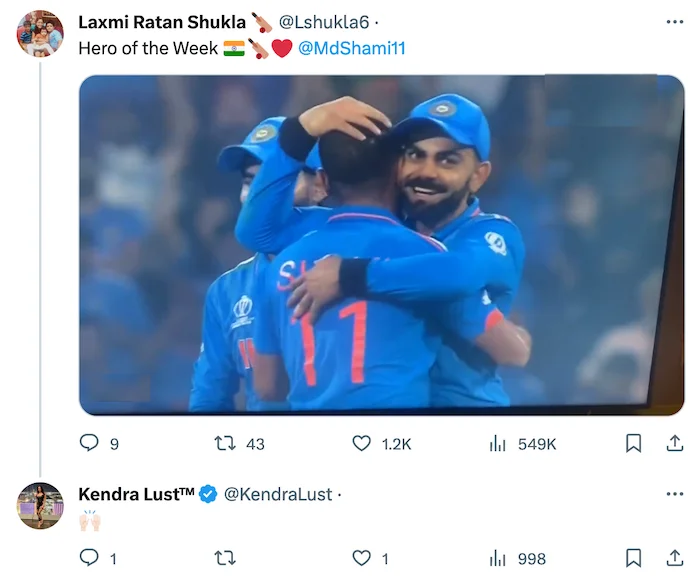 Mohammed Shami stays focused on his primary aim, which is to spearhead India's bowling attack and contribute to the team's quest for the coveted ICC One-Day International World Cup trophy. His exceptional abilities, steadfast dedication, and unwavering passion for the sport make him an integral member of the Indian cricket team and a source of great pride for the country.
As the tournament proceeds, cricket fans across the globe await Shami's next spell with bated breath, expecting for more mesmerising performances from the ace bowler on the big stage of the ICC ODI World  Cup 2023. Shami continues to excite and enchant cricket fans all around the globe with each delivery.