The Pakistan cricket team's journey in the 2023 Cricket World Cup has been far from smooth, and their chances of reaching the semi-finals are hanging by a thread. Much of the attention has centered around the team's captain, Babar Azam, who has been the subject of rumors regarding a strained relationship with Zaka Ashraf, the Chief of the Pakistan Cricket Board.
There have been reports suggesting that Ashraf has not been returning Babar's phone calls.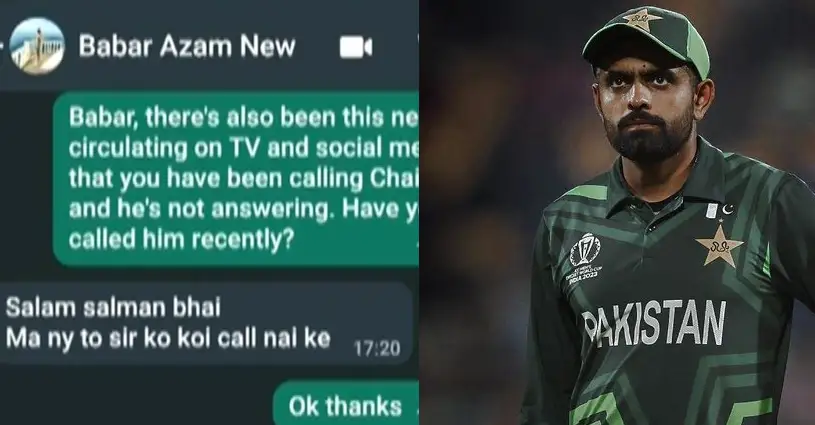 Furthermore, a recent purported WhatsApp chat involving Babar, which was aired by a Pakistani TV channel, led the cricket legend Waqar Younis to express his strong disapproval of the public sharing of private conversations.
https://x.com/usmssss/status/1718704598909886626?s=20
Speculation regarding Babar's leadership has been relentless, with murmurs that the PCB may consider a change in captaincy after Pakistan's World Cup campaign. Waqar voiced his disappointment and disapproval of the public disclosure of an alleged private chat involving Babar, deeming it disheartening.
https://x.com/waqyounis99/status/1718866372820935048?s=20
The conversation in question on the TV channel appeared to revolve around Salman inquiring about the rumors circulating on television and social media, which suggested that Babar had been attempting to contact the PCB Chairman without success. In response, Babar, saved in the contact list as 'Babar Azam New,' denied having made any such calls to the Chairman.
https://x.com/farooq_49/status/1718931570621583687?s=20
Waqar took to X (formerly Twitter) to express his dissatisfaction with the TV channel for broadcasting a private conversation.
He criticized the channel for what he perceived as an unethical act, questioned its motives, and called for people to respect Babar Azam's privacy, recognizing his significance in Pakistani cricket. Waqar also mentioned the PCB and the TV channel in his message.
Pakistan's performance in the World Cup has been disappointing, with four losses in their six matches thus far. The team's prospects for reaching the semi-finals are currently uncertain. Amid the increasing criticism, some former players have even called for the removal of Babar as the captain.
Given these challenges, Waqar's plea to acknowledge Babar as a vital asset to Pakistani cricket and to respect his privacy serves as a poignant reminder of the importance of unity and support in the cricketing world. As Pakistan confronts the hurdles ahead, both the team and its supporters must come together, putting aside controversies and distractions, and concentrate on the task at hand.