Although Pakistan's underwhelming displays against India and Australia in the 2023 ICC Cricket World Cup raise concerns, the iconic former Pakistani pace bowler, Wasim Akram, offered valuable insights, particularly focusing on the fast bowler Haris Rauf's performance.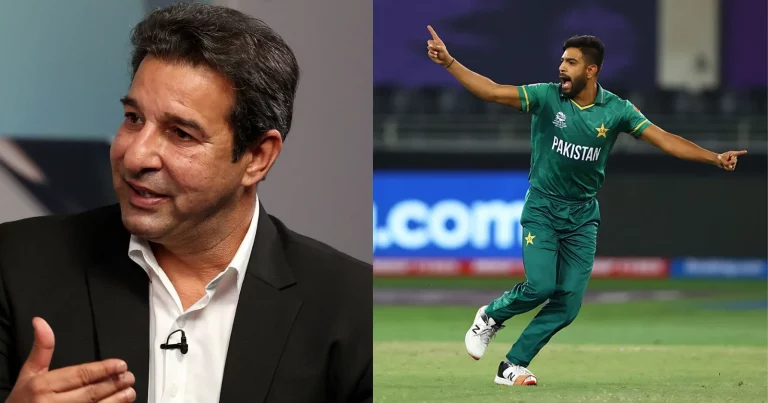 During the 12th match of the ICC World Cup, India secured a resounding seven-wicket victory over Pakistan. This marked Pakistan's eighth defeat to India in the World Cup's history, intensifying the scrutiny of the lackluster performances of key players. Fans worldwide were left disheartened by the team's inability to secure a victory against their arch-rivals.
Wasim Akram, an iconic figure in the realm of fast bowling, took the spotlight with his observations on the match. His primary focus was on the performance of Haris Rauf, a promising fast bowler who has raised expectations due to his incredible pace.
Akram emphasized that while pure pace is undeniably an asset, it alone may not suffice for consistent wicket-taking, particularly against top-class batters. In a match as pivotal as this, bowlers must employ diverse strategies to dismiss well-established batsmen. It's not just about speed; it's about skill and finesse.
Wasim Akram Offers Valuable Guidance to Help Haris Rauf Turn the Tide in ODIs
Akram stressed the importance of building pressure on batsmen by delivering dot balls, a tactic often used by successful bowlers. He identified Haris Rauf's inconsistency in maintaining a steady length, comparing it to Jasprit Bumrah's reliable lengths. Akram advised Rauf to focus on honing his skills in first-class cricket to improve his performance in ODIs. In T20s, Rauf should work on variations like yorkers, bouncers, and slow balls while aiming for six consistent back-of-a-length deliveries.
"There's an attitude about a bowler. Talking about Haris Rauf, and nothing against him as he's been Pakistan's main bowler. I think that he will only pick wickets when batters go after him. I've never seen him swing the ball and pick wickets like Bumrah did today. He has pace but he has to improve his length for one-day cricket," 
Akram said.
"Jasprit Bumrah is a clever bowler, one of the best in the world. When he was not getting any swing initially, he was hit for a couple of fours but restricted the flow of runs after that. Everything was finishing within the stumps and that was a slow ball to dismiss Rizwan. Any batter would have got out on the delivery that got Shadab Khan,"
added Akram.
https://x.com/HaroonM33120350/status/1715442490185240955?s=20