The ICC Cricket World Cup 2023 has been a rollercoaster of emotions for cricket enthusiasts worldwide. One of the most intriguing storylines has been Pakistan's performance in the tournament. Led by the talented Babar Azam, the Pakistan team finds itself at a crossroads as they aim to secure a spot in the semifinals.
After New Zealand's impressive performance against Sri Lanka, chasing down the target set in just 24 overs, Pakistan's chances in the tournament seemed to be dwindling. The prospect of reaching the semifinals appeared daunting. With this backdrop, Pakistan was left with a critical decision: should they bat first and aim for a score of 300, all while restricting England to a mere 13 runs. If they exceed 300 runs in Kolkata, they would need an imposing margin of 287 runs to secure their place.
The challenge is immense, especially considering England's recent decision to win the toss and bat first. This has added another layer of complexity to Pakistan's path to the semifinals.
Virender Sehwag, renowned for his wit and humor both on and off the cricket field, took a playful dig at Pakistan's predicament. Sehwag, using his social media platform, conveyed his humorous thoughts about Pakistan's journey in the ICC Cricket World Cup 2023.
In his characteristic style, Sehwag expressed his hope that the Pakistani team had enjoyed the biryani and warm hospitality during their stay in India. He then playfully wished them a safe journey back home, accompanied by a whimsical farewell message. This lighthearted message was visually represented by a shared banner symbolizing a definitive 'Bye Bye Pakistan.'
While Sehwag's jest was intended as a humorous take on the situation, it did not sit well with everyone. A Pakistani journalist took to social media to voice his discontent. He criticized the former Indian cricketer's comments, labeling them as threats and insinuating that they were meant to intimidate the Pakistani team.
Virender Sehwag's Sly Dig At Pakistan Attracts Backlash From Pakistani Journalist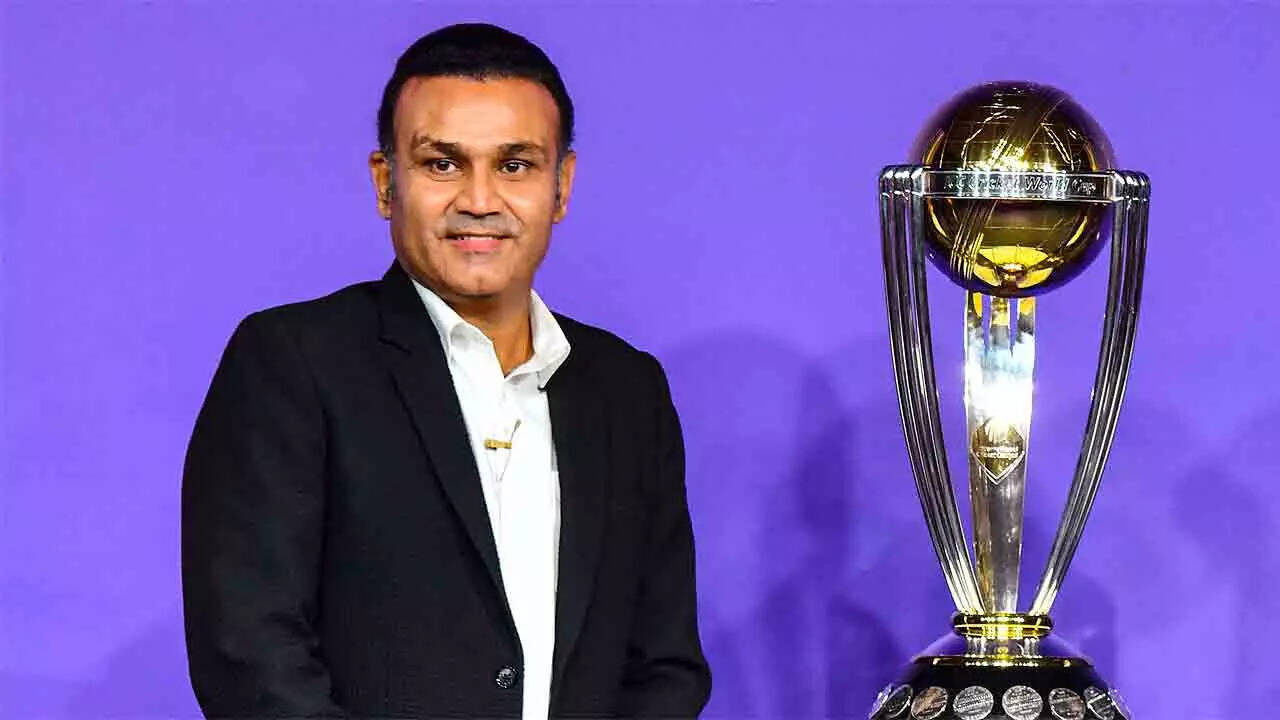 The journalist called upon the International Cricket Council (ICC) and the Foreign Office to take immediate notice of the matter and ensure the safety of the Pakistan cricket team during their stay in India. He did not mince words, referring to Sehwag's post as 'disgusting.'
Pakistan ki khaas baat hai ki jis team ko Pakistan support karti hai, woh team Pakistan ki tarah khelne lagti hai 😂.
Sorry Sri Lanka. https://t.co/Qv960oju2m

— Virender Sehwag (@virendersehwag) November 10, 2023
Disgusting! Virender Sehwag, a former international cricketer of India, is giving threats to Pakistan to escape from India alive. ICC and Foriegn Office must take an immediate notice for the safety of Pakistan cricket team. This is how unsafe India is for Muslims. https://t.co/xUDezLhPFD

— Wajahat Kazmi (@KazmiWajahat) November 10, 2023