In the 2023 World Cup match between India and Sri Lanka at Mumbai's Wankhede Stadium, Mohammed Shami showcased his exceptional skills. The right-arm fast bowler significantly contributed to India's remarkable 302-run victory by effectively dismantling Sri Lanka's batting lineup.
In the process, he achieved a milestone by becoming India's all-time leading wicket-taker in the history of the ODI World Cup, surpassing legendary bowlers such as Zaheer Khan and Javgal Srinath. Following his five-wicket haul, Shami celebrated with a memorable on-field moment.
Following his remarkable five-wicket haul, Shami left spectators puzzled with a unique gesture he made by touching his head, leaving them wondering about its significance.
However, Indian cricketer Shubman Gill clarified the mystery by revealing that Shami's gesture was dedicated to India's bowling coach, Paras Mhambarey. Gill confirmed this during a post-match interview, shedding light on the true meaning behind Shami's actions.
"The way they were bowling we were anticipating wickets. Siraj is always fired up. They were sensational. Has made job easier for us. I am the kind of person who doesn't get nervous. I look to tackle it my own way at the start. Not full fitness. I am four kilos down from dengue in terms of mass and muscle weight. Honestly, the discussion was to play in a compact manner. The odd ball was seaming. Hit the balls in our areas. You couldn't get into a shell. Looked to put the pressure on the bowlers. I felt in the previous matches I got starts except the last one. 

"Sometimes you play a good shot and it goes to the fielder. We thought about rotating the strike today. I honestly don't think it was a 400-wicket. We batted well to get 350. Shreyas was the key today. He batted superbly. That's our bowling coach he (Shami) was gesturing,"
Gill revealed to the Broadcasters after India's win over Sri Lanka.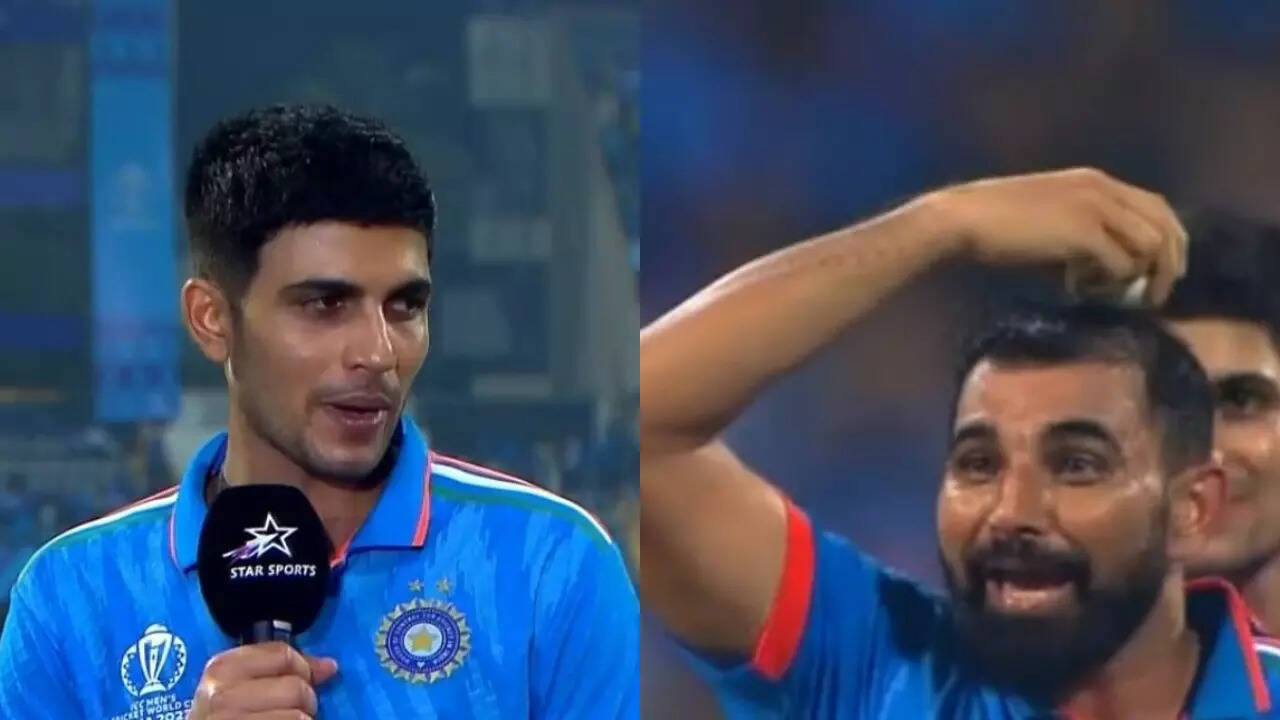 https://x.com/MeetMakzz/status/1720097763340529915?s=20
India's cricket team has been delivering exceptional performances in the World Cup.
They convincingly defeated both England and Sri Lanka while defending their targets. Under the leadership of Rohit Sharma, India has achieved a significant milestone by becoming the first team to secure a spot in the semifinals of the 2023 World Cup. With a winning streak of seven consecutive matches, they stand as the sole unbeaten team in the tournament. India's next challenge will be against South Africa in their second-to-last group stage match, which is scheduled to take place in Kolkata on November 5.