Sometimes, fame comes with serious risks. While most contestants have benefited from Shark Tank India, others have suffered, such as Yushika Jolly, CEO of Semi-Permanent hair color firm Birds of Paradise, who did not win a deal but received an outpouring of fan affection and sold out his entire inventory in two days.
The competitive nature of the Sharks was brought out by Yushika Jolly, who came on the program with her husband and co-founder, Siddharth Raghuvanshi. Vineeta Singh and Aman Gupta ultimately closed the acquisition after Peyush Bansal, Anupam Mittal, and Aman Gupta argued over equity. But then what happened?
She sent a long post on LinkedIn, in which she revealed that her husband is getting all the accolades while she is being called manipulative and selfish. She then went on to write on the impact of the ninth episode of Season 2 of Shark Tank India.
Sharing the aftermath of Shark Tank India season 2 episode 9, she wrote,
 "I'm starting to believe that we, as a country, despise women for being assertive and having opinions. In the last 48 hours, I have been called 'rude,' 'smug,' 'manupulative,' 'greedy,' , 'bitch' and 'unprofessional.' 
Hate messages abound in my DMs, in the comments on my personal page, and even on my brands' page. I draw attention to the gender prejudice because, in contrast, my husband, who is also the co-founder, is getting praised for his excellent negotiating skills and his smile (which I do agree with)."
She explained why they went with Aman and Vineeta's proposal instead of Peyush's, and she disclosed that many individuals are interested in her family's company. 
"I lost my father one month after starting paradyes," she wrote and explained how she has her whole heart in the business she has created.
Aman Gupta sent a touching letter of encouragement to Yushika Jolly, of the band Birds of Paradise.
The boAt co-founder wrote,
 "I was speaking to Siddharth on this. You were amazing. There aren't many businesses where Shark fight happens like this. This shows the power of the entrepreneurs and the start up. Secondly, you did really well and did what was right for your business and your customers. That's what matters at the end of the day. Thirdly, you were there on the tank the first time and still your confidence was amazing. I sit on the chair and sometimes it's the heat of the moments, the tank, the 13 cameras , the emotions, the feelings etc. that get to me also many a times even till now. For you this was still the first one on the tank and I haven't seen many as confident as you. And most important, forget the chatter around. Some like to get that attention by saying negative things once you are in the public light. It's a part of being in limelight. Ignore the negativity and happy to hear that sales are increasing and brand is getting the right traction. Focus on the positives. You be you and stay strong."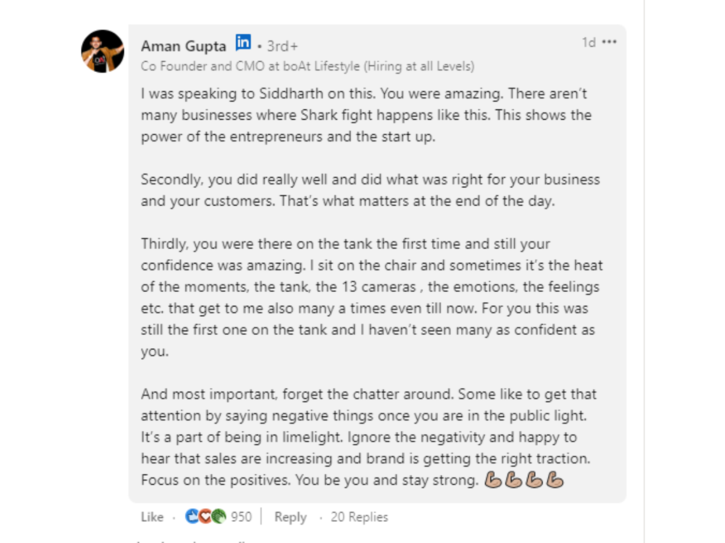 As a result, the comments area has become a hotbed of support for Yushika Jolly and Birds of Paradise.