Virat Kohli kicked off his 100th Test match of his career against Sri Lanka tomorrow which will be the captaincy debut for Rohit Sharma in test cricket. After the disappointing series defeat in South Africa, Kohli left captaincy as India's most successful captain in the white-ball format. BCCI decided to make Rohit captain in all three formats for India. Sri Lanka currently holds the top spot in the ICC World Test Championship 2021-23 with 2 wins from 2 games. India now has got a great opportunity to improve their standings in the WTC table as they are in the 5th spot with only 4 wins from 9. India captain Rohit Sharma thinks that his predecessor deserves all the credit for India's development over the past few years in test cricket.
"As a Test team, we stand in a very good position. The whole credit goes to Virat for where we stand in this format. What he has done with the Test team over the years was brilliant to see," Rohit said in the pre-match press conference, his first as Test skipper.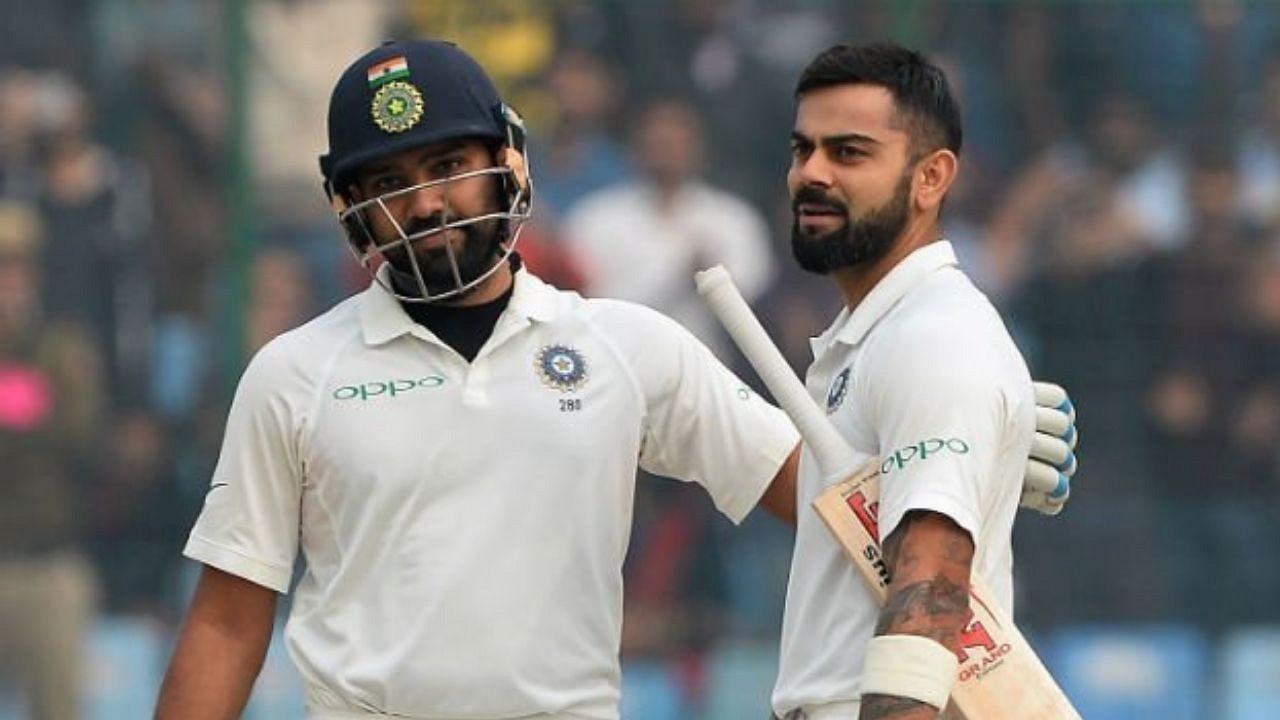 "I have to just take it from where he has left. I just have to do the right thing with the right players," he added.
"The team stands in a good position. Yes, we are mid-position in the WTC table but I don't think we have done anything wrong in the last two to three years," Rohit added.
In the first edition of the World Test Championship, India reached the finals to play New Zealand but eventually lost it against the Kiwis. Kohli and the Indian team has done well apart from it in the format and will be looking to play the final in 2023 as well. For that, they simply can't afford to lose test matches against Sri Lanka at home. BCCI will be allowing 50% of spectators in the stadium in Kohli's landmark game, tickets are expected to be sold out.
"It has been one hell of a ride for him, and we definitely want to make it special for him. We are all prepared for that and let's hope, we have good five days of cricket. The crowd is coming to see Virat play and that's a great thing. As a team, the series we won in Australia in 2018 and it was a big series, and Virat was our captain."
The best knock of Kohli among his 27 Test hundreds, according to Rohit, is the one he hit in South Africa on his first tour in 2013
Kohli has not scored a ton since 2019 and fans will be hoping that his 71st century comes in this landmark game. When asked about the best one among his 27 centuries in test cricket for India, Rohit Sharma described that the ton against South Africa in 2013 was Kohli's best among the lot.
"As a batter, I remember his hundred (in Johannesburg) against South Africa in 2013. The pitch on which we played was a challenging one and we had bowlers like Dale Steyn, Morne Morkel, Vernon Philander and Jacques Kallis to face which wasn't easy," Rohit recollected.
"It was a bouncy track and we all were playing Test cricket in South Africa for the first time. He scored a hundred in the first innings and 90 odd in the second innings.
"That hundred for me is his best. Then there is Perth 2018 but 2013 South Africa beats Perth," he added.