In the ongoing 2023 World Cup, India has emerged as a formidable force, asserting their prowess by convincingly winning all nine group-stage matches. This exceptional performance has secured their leading position in the group standings, laying the groundwork for an exhilarating semi-final showdown against New Zealand in Mumbai.
During their final group match against the Netherlands in Bengaluru, India showcased their cricketing supremacy. Batting first, the team amassed a staggering 410 runs with just four wickets lost. Notably, KL Rahul and Shreyas Iyer's centuries, alongside half-centuries by Shubman Gill, Rohit Sharma, and Virat Kohli, contributed significantly to this commanding total.
KL Rahul's composed century solidified his position as a formidable opener, setting the stage for India's imposing score. Shreyas Iyer's elegant stroke play added to the team's dominance, while Shubman Gill's well-crafted half-century and Rohit Sharma's explosive innings further fortified India's position. Virat Kohli, primarily known for his batting prowess, also showcased his exceptional batting skills during this match.
While India's batting display was exceptional, their bowling performance was equally outstanding. Facing a daunting target, the Netherlands felt the pressure of India's formidable bowling attack.
In an unexpected turn Rohit Sharma primarily a batsman, displayed his bowling skills after nine years in this World Cup match. His timely wicket added to the team's momentum.
https://www.instagram.com/reel/CzjWt-6sqd5/?utm_source=ig_web_copy_link
https://www.instagram.com/reel/CzjWJH1vJxD/?utm_source=ig_web_button_share_sheet
During this game in Bengaluru, Kohli took a wicket in his second over, despite it not being an intentional wicket-taking delivery. Rohit Sharma, leading from the front, also contributed with his strategic bowling, securing the final wicket and sealing the Dutch team's fate.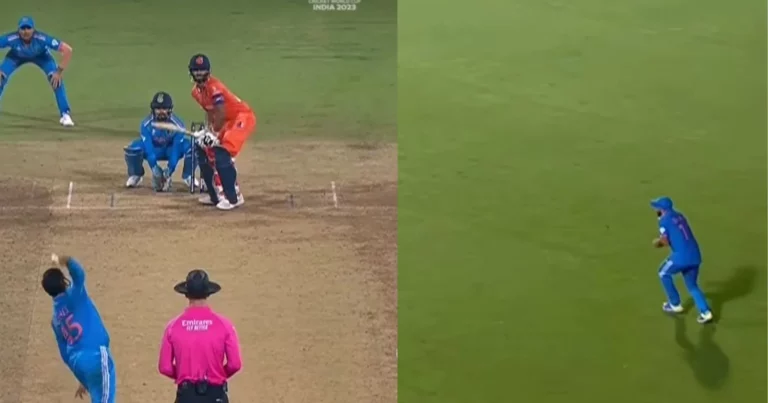 India's ability to explore alternative bowling options showcased the depth of their squad. Their consistent top-order batting combined with this flexibility in bowling positions them as a formidable force.
https://www.instagram.com/reel/CzjWt-6sqd5/?utm_source=ig_web_copy_link
With an impressive winning streak and a display of talent in both batting and bowling, India now gears up to face New Zealand in the semi-finals, promising an intense clash between two cricketing powerhouses.