In Bollywood, controversy and drama often take center stage. One name that frequently makes headlines for her candid opinions and sharp criticism is Rangoli Chandel, the outspoken sister of renowned Bollywood actress Kangana Ranaut. Rangoli, an active presence on social media, has carved a niche for herself as a fearless critic and advocate for her sister. Her no-holds-barred approach to addressing issues has earned her both admirers and detractors in the film industry.
Rangoli Chandel's journey in social media began with a singular purpose – to publicly defend and support her sister, Kangana Ranaut, in the face of disapproval from some Bollywood actors. Her decision to join platforms like Twitter marked the beginning of a spirited engagement with the industry.
Rangoli Chandel has never shied away from taking on established Bollywood figures, and her Twitter feed serves as a testament to her audacity. Over the years, she has engaged in highly publicized disputes with several celebrities, including Taapsee Pannu, Hrithik Roshan, and Alia Bhatt. However, it's her recent clash with Malaika Arora that has once again thrust her into the spotlight.
Malaika Arora, a Bollywood starlet renowned for her style and grace, recently posted a photo of herself with her son, Arhaan, on a bed. In the photograph, Malaika wears a low-cut nightgown, and Arhaan is seen beside her, portraying a caring son.
Rangoli Chandel, never one to miss an opportunity to express her opinion, didn't hold back. She retweeted Malaika's post with a caption that read, "This is modern Indian mother," accompanied by a string of applauding and thumbs-up emojis.
Rangoli Chandel Slams Malaika Arora For Her Selfie With Son
Malaika Arora's photo garnered significant attention, both positive and negative, and many on social media found Rangoli's comments to be in poor taste. The backlash against Rangoli was swift and harsh.
Amid the criticism, Rangoli attempted to defend her statement by tweeting, "People are writing very mean things about Malaika, I called her a modern day mom but all the nasty things people saying about her I wonder if this picture suggesting … people, please refrain from over imagination it's not good."
While Rangoli Chandel's controversial remarks often dominate headlines, she also shares glimpses of her personal life on social media. She recently posted a heartwarming video of her mother crocheting a jumper for her son, Prithvi. In the video, she lauds her mother as the "last of authentic Indian mothers generation."
While this sweet gesture was intended to showcase her family's warmth, it couldn't overshadow the recent fracas surrounding Malaika Arora's photo.
As the Malaika Arora incident continues to be a topic of discussion among netizens, it's important to acknowledge the diverse opinions that emerge on social media. While some may view Rangoli Chandel's comments as harmless and straightforward, others perceive them as unnecessarily harsh and critical.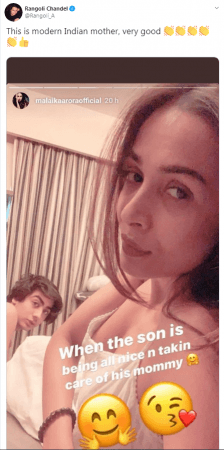 Last of authentic Indian mothers generation, mom has almost completed Prithvi's sweater she started last week itself,only sleeves are left, 🥰🥰😍😍😍😍 pic.twitter.com/XGfiD51YCb
— Rangoli Chandel (@Rangoli_A) November 5, 2019