In a spectacular semi-final showdown against New Zealand, India orchestrated a stunning victory, securing a 70-run triumph and earning their spot in the final. A pivotal moment unfolded as Virat Kohli notched his 50th ODI hundred, surpassing the legendary Sachin Tendulkar for the most ODI hundreds in history. Kohli's monumental achievement etched history, propelling India into the finals scheduled for Sunday in Ahmedabad.
Amidst the intense clash, Shreyas Iyer blazed onto the scene with a quickfire century against New Zealand, adding another layer of dominance to India's performance. However, amidst the stellar performances, one figure consistently stood as the driving force behind the Indian team throughout the World Cup—Captain Rohit Sharma.
Rohit Sharma's ultra-aggressive approach at the start of innings provided the team with a fast-paced momentum, alleviating pressure on the middle order. With consistent quickfire 40s and 50s, Rohit Sharma not only showcased his batting prowess but also exhibited astute captaincy, leading the team from the front.
Suniel Shetty Calls Rohit Sharma 'Captain Marvellous' After India's Semi-Final Win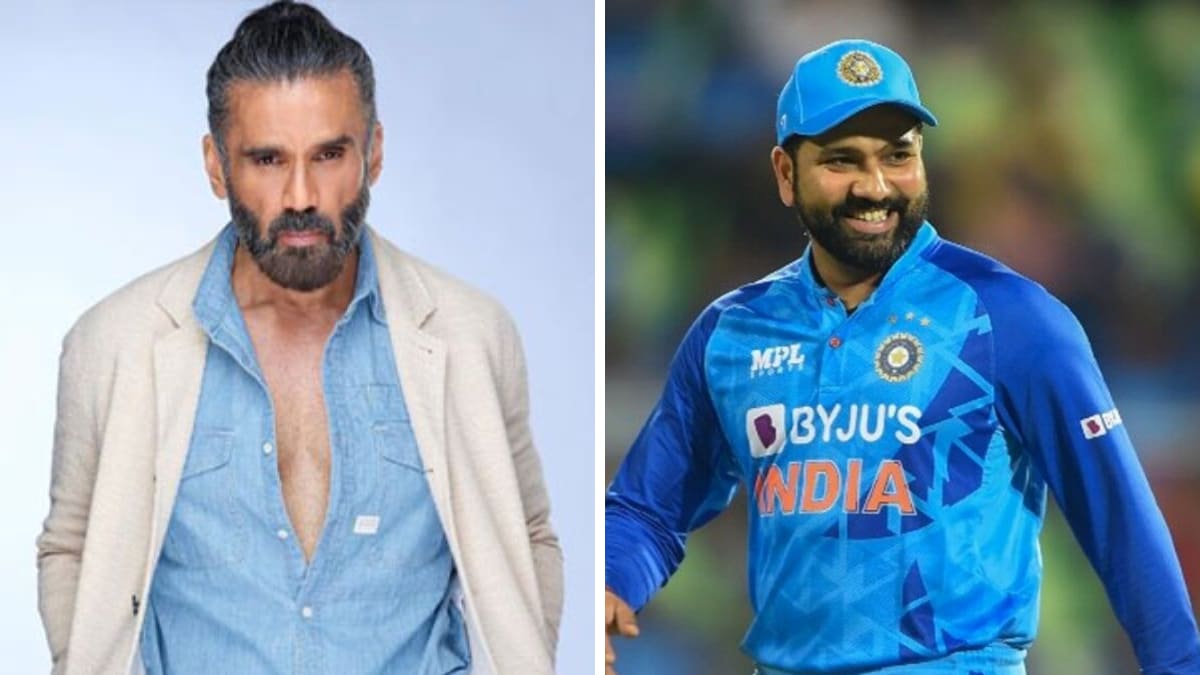 The likes of Virat Kohli and Shreyas Iyer found solid ground to build on, thanks to Rohit Sharma's impactful starts. His selfless knocks set the stage for the entire team to shine, emphasizing team glory over individual milestones. Bollywood actor and KL Rahul's father-in-law, Suniel Shetty, captured the essence of Rohit Sharma's brilliance in a tweet after India's qualification for the final:
"@imVkohli will continue to shatter records. @ShreyasIyer15 will grab the headlines. But my captain @ImRo45 Rohit Sharma is THE Man of the Moment. He sets the match ablaze with his selfless knocks, setting up a stage for the entire team to shine. No milestones, just team glory. Ye Captain nahi…Captain Marvelous hai. 10 wins on the trot, one win away from being world champions."
With an impressive ten consecutive wins, India stands on the precipice of becoming world champions. Rohit Sharma's strategic brilliance and impactful performances have been instrumental in steering the team to this momentous position. As the world awaits the final showdown, the stage is set for India to etch their name in the annals of cricket history.
.@imVkohli will continue to shatter records. @ShreyasIyer15 will grab the headlines. But my captain @ImRo45 Rohit Sharma is THE Man of the Moment.

He sets the match ablaze with his selfless knocks, setting up a stage for the entire team to shine. No milestones, just team… pic.twitter.com/DwJlCNNSve

— Suniel Shetty (@SunielVShetty) November 15, 2023