Rekha has been one of the most popular actresses of the Hindi film industry, with her name being celebrated in the industry, during the time that she was active and even years after it. Her style in her younger days and when she aged, she did so like fine wine, maintaining her charm through the years and made sure that at no time of her on-screen or off-screen presence takes a hit. And, many may be curious that what are her sources of income, after she has been done acting regularly and take the back seat in terms of being the hot topic of the B-Town.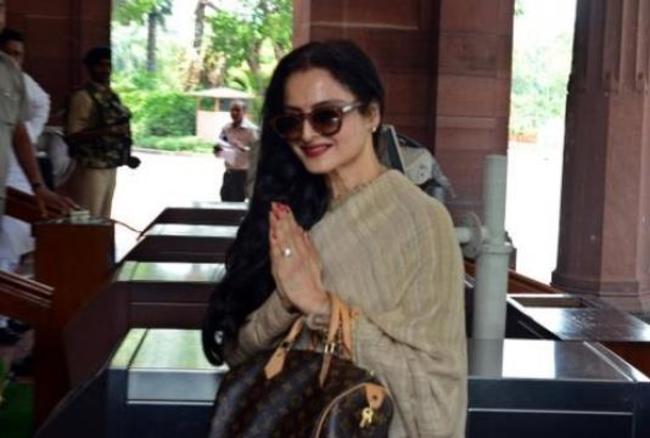 During her heydays, she used to complete over 5 films in a year and every one of them, owing to her presence on the screen was a big hit. But, as it happens with everyone time passed and age crept in on her and the frequency of films got lowered to just a couple at max in a single calendar year. And, more recently, her big-screen appearances have died down even further, with her last big film being the Amitabh Bachchan and Dhanush starrer 2015 film, Shamitabh.
Rekha is also a Rajya Sabha member
The reduction in her movie appearances has not had any major effects on her way of living life, at least when in the public domain. Her way of life is not the most extravagant when compared to that of the other B-Town Celebs, but her expenses are enough to put any small bank account to shame. And, the answer to the question that would naturally come into any person's mind after reading all of this would be that where does her money come from?
As reported by Patrika, a large part of her income comes from the lease that she gets off the various properties that she owns across key locations in one of the most expensive cities, Mumbai. Additionally, helping her would be the finances would be the fact that she gets a fair amount of compensation from her Rajya Sabha membership. A part of her income also apparently gets in from her appearances in high-class events, where her every minute of getting in and out-earn her money.
Rekha has been one of the most famous names in the industry and getting an insight into her sources of income, one of the hottest topics of discussion among the fans of B-Town. And, it is interesting to get every bit of information that people can get their hands on.