The worst earthquakes have struck in Turkey and Syria. Countless lives were lost, and many survivors are still fighting to pick themselves up from the ruins. Social media is being flooded with tragic footage of the rescue effort. 
Actress Priyanka Chopra has recently asked for aid to be sent to the people impacted in Turkey and Syria after sharing some harrowing images of the situation. She sent an extended message on how no one is safe from mother nature's fury and provided information about organizations that are providing aid to those in need.
Pictures and videos show rescuers bringing a 3-month-old infant to safety. In still another, a guy searches for his loved ones among the debris.
In one section of her caption, Priyanka Chopra writes, 
"Rescue operations are relentless, which lead to some hopeful moments like these, where a 3 month old baby was pulled from the rubble. There are many who still remain trapped, waiting and hoping to be saved, their families praying for a miracle. It's heartbreaking."
Check her post HERE:
https://www.instagram.com/p/ConNBdbomHi/?utm_source=ig_web_copy_link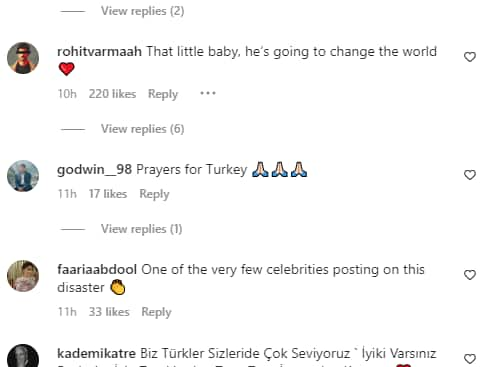 A lot of people appreciated her expressing solidarity and being one of the few celebrities to address the issue.
A number of famous people have spoken out in the wake of natural disasters in Turkey and Syria, including Rajkummar Rao, Alia Bhatt, Shilpa Shetty, and others. Many people have described the situation as catastrophic.
When charitable efforts are being planned or carried out, Priyanka Chopra is usually one of the first people to volunteer. She also often meets those in need in her role as Goodwill Ambassador for UNICEF. 
Priyanka Chopra has captured the hearts of many with her tireless advocacy for children across the world, whether it is for undernourished children in Kenya or for the right to an education, healthcare, and more in her home state of Uttar Pradesh.