Virat Kohli had a delightful day on Thursday, and with India's resounding 302-run victory over Sri Lanka, there was every reason for his joy. This win propelled the Indian cricket team into the semi-finals of the Cricket World Cup in a spectacular manner.
Virat Kohli played a significant role in the team's success, contributing 88 runs and forming a remarkable partnership with Shubman Gill, who scored 92. While Virat Kohli came close to equalling Sachin Tendulkar's world record of 49 ODI centuries, falling short by just 12 runs, he still has plenty of opportunities in the current Cricket World Cup to not only equal but also surpass that remarkable milestone.
During the game, Virat Kohli displayed a jovial spirit as India took to the field. As fans at the Wankhede Stadium serenaded the song 'My Name is Lakhan' from the film 'Ram Lakhan,' Virat Kohli added to the festive atmosphere by dancing to the tune.
https://x.com/HitmanCricket/status/1720078508347805756?s=20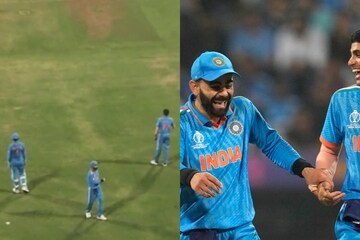 In another remarkable achievement, Virat Kohli surpassed the legendary Sachin Tendulkar's record for the most runs scored in a single year in the ODI format. However, he couldn't match Sachin's record of 49 ODI centuries.
Virat crossed the 1,000-run mark in the 50-over format against his preferred opponent, Sri Lanka, during the ongoing World Cup at the Wankhede Stadium. This marked the eighth time in his illustrious career that Virat crossed the four-digit mark, with previous instances occurring in 2011-14, 2017-19, and 2023.
Sachin, on the other hand, reached the four-digit mark in the ODI format seven times, in the years 1994, 1996-98, 2000, 2003, and 2007. Virat Kohli's innings of 88 (94) marked his tenth 50-plus score in ODIs this year. Shubman Gill currently leads the chart with twelve 50-plus ODI scores in 2023.
Furthermore, Virat's game-changing innings against Sri Lanka brought up his 118th 50-plus score in the ODI format. The partnership of 189 runs between Virat and Gill was India's second-highest partnership against Sri Lanka in World Cups. The top spot is still held by Rahul Dravid and Sourav Ganguly's remarkable 318-run partnership at Taunton in 1999.
Virat was on the cusp of matching Sachin's record of 49 ODI centuries, but Dilshan Madushanka dismissed him with a slower delivery. He played the shot a bit early, directing it toward short cover, where Pathum Nissanka made a stunning low catch.
Kohli and Gill's partnership laid the foundation for India to post a massive total against Sri Lanka and secure their place in the semi-finals.