Kangana Ranaut expressed her strong disapproval on her social media platform regarding Punjabi singer Shubh's actions. Shubh was captured in a video allegedly promoting a hoodie at one of his concerts, which displayed the news of the assassination of former Indian Prime Minister Indira Gandhi.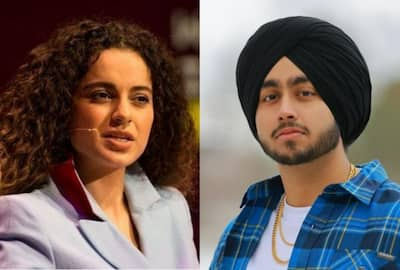 The video shows him proudly displaying the hoodie during the concert, featuring a white print in the shape of the Punjab map. You can watch the video here:
https://x.com/pun_fact/status/1719157926500147645?s=20
Reacting to the video, Kangana wrote:
"Celebrating the cowardly killing of an old woman by those who she appointed as her saviours. When you are trusted to protect but you take advantage of the trust and faith and use the same weapons to kill the ones were suppose to protect then it's a shameful act of cowardice not of bravery. One must be ashamed of such a cowardly attack on an elderly lady who was disarmed and unaware, a lady who was the chosen leader of a democracy, nothing to glorify here Shubham ji. Shame!!!
Take a look.
https://x.com/KanganaTeam/status/1719238396114260043?s=20
Nevertheless, OpIndia conducted a fact-check and reported that the singer was allegedly "tricked" into promoting the hoodie. According to the website's investigation, the video only showed the Punjab map on the hoodie, while the actual brand responsible for selling the product featured the news of the assassination on it.
It remains difficult to ascertain the exact truth in this situation. However, despite the video's quality, the hoodie depicted in it closely resembles the one available for sale on Akaal Clothing. Additionally, upon visiting the brand's page, it is evident that the hoodie glorifies the assassination.
This incident is not the first time Shubh has found himself in the headlines. Previously, he shared a distorted map that excluded Jammu & Kashmir, Punjab, and the north-eastern states, sparking a major controversy in both India and Canada. He faced criticism for allegedly supporting separatist and pro-Khalistani agendas.
It appears that Shubh and controversies are frequently associated with each other.
Curiously, these events coincide with Kangana's upcoming role as former Indian Prime Minister Indira Gandhi in her film 'Emergency,' slated for release in the near future.