New Zealand captain Kane Williamson added a delightful twist to his social media with a humorous claim that his thumb fracture was a result of a handshake with the Indian wrestler, The Great Khali.
This Instagram post by Kane Williamson has taken the internet by storm, as the Kiwi skipper is not typically known for his humorous captions. Fans were in for a delightful surprise as they chuckled at his unexpected joke.
Following his recovery from a knee injury and a successful comeback against Bangladesh, where he scored an unbeaten 78, Kane Williamson is currently sidelined due to a thumb fracture. This unfortunate injury occurred during a match against Bangladesh in Chennai.
While running, he was struck directly on the thumb by a throw from a Bangladeshi fielder. Williamson was immediately taken off the field for scans, which later confirmed a minor thumb fracture. As a result, he's expected to miss New Zealand's next five games, though he might make a swift return for the semi-final.
Kane Williamson's Rib-Tickling Post: The Great Khali and the Thumb Fracture Saga
On Friday, Kane Williamson shared a throwback from earlier this month when he crossed paths with The Great Khali on the eve of the tournament in Ahmedabad. Williamson's caption reads:
When I really fractured my thumb.
Na but seriously, that's one strong handshake! 😂
Pleasure to meet @thegreatkhali!"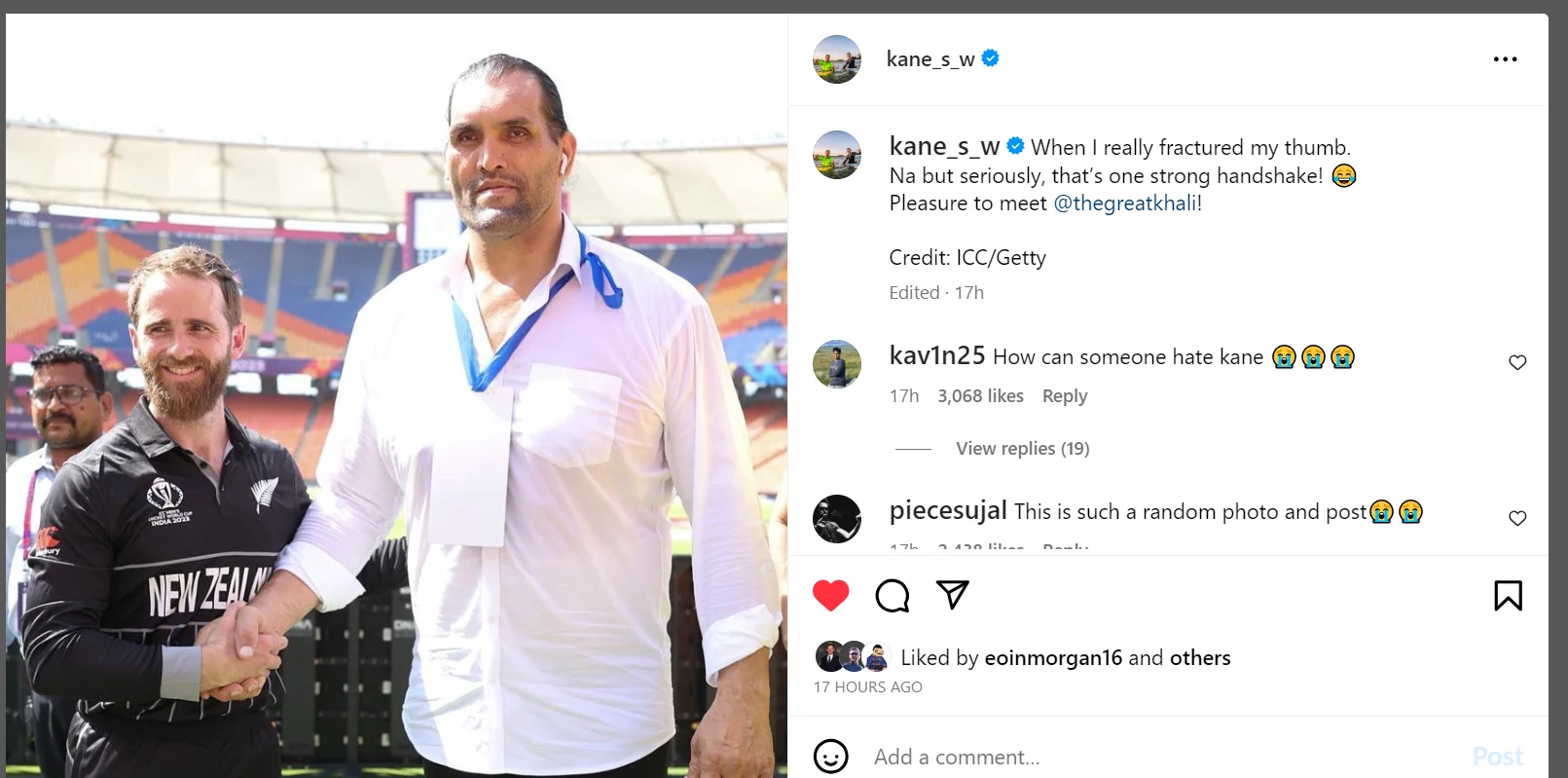 Head coach Gary Stead stated
"Firstly, we're all feeling for Kane to have this occur after all his hard work to return from his knee injury. While it's disappointing news, the initial diagnosis has given us some optimism he can still feature later in the pool play following a period of rest and rehabilitation.

"Kane is clearly a massive part of our side, and a world-class player and captain – so we'll look to give him every opportunity we can to return in the tournament."
Tom Latham will captain New Zealand against India Today.