Fans of Indian bowler Jasprit Bumrah are keen to see him back in action, and their expectations have been bolstered by recent photos of Bumrah in full-on practice. Cricketer Arshadeep Singh filled the gap during his absence
. As one of the finest Indian pacers of all time, his injury soon before the Asia Cup 2022 heightened fears of the Indian team management. However, youthful speedster Arshdeep Singh rose to the situation and did very well for a teenager of his age.
The 23-year-old bowler didn't only give the opposing batters a hard time in the Asia Cup 2022; he also contributed to India's run to the semifinals of the ICC T20 World Cup 2022 in Australia. Moreover, he has been nominated for Emerging Cricketer of the Year because of his strong play.
In addition to this, Arshdeep Singh gained notoriety for his humorous social media postings in which he misspelled the names of many places.
On the eve of the New Year, Arshdeep Singh shared a story on Instagram in which he was sitting in a vehicle, with the description, "On the road to a whole new year."
An internet user also shared a picture of the girl who was in the vehicle with Arshdeep Singh, helping the post get widespread attention:
Arshdeep Singh recently posted an Instagram story
on New Year's Eve in which he was seen in a car, with the caption, "Never been more scared in life," accompanied by a skull emoji. In the next line, he posted, girl emoji + car emoji = skull emoji, implying that being in a car with a girl is risky business.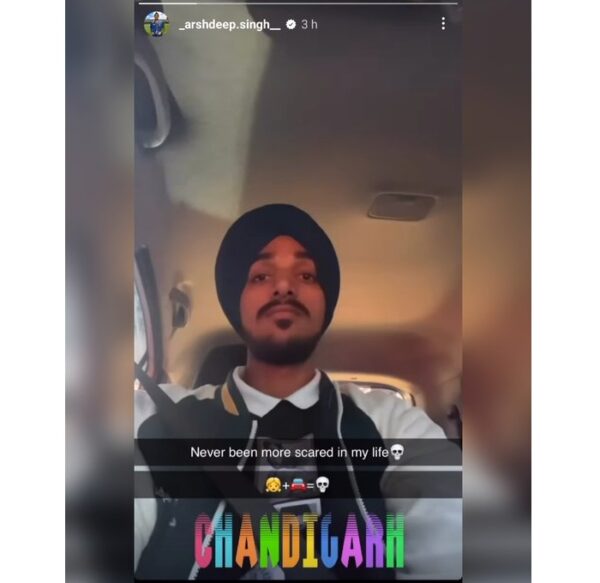 Some internet users responded positively to his message, praising his sense of humor, while others poked fun at him, wondering when he was going to take time out of his busy schedule to drive with Rishabh Pant, a popular Indian cricketer who recently survived a car crash on the Delhi-Dehradun highway.
Kabhi pant bhaiya k sath baitho gadi me pata chalega

— SsSsensation (@saurabh_su) December 31, 2022