On Monday, October 23, Afghanistan delivered a resounding blow to Pakistan, securing an emphatic eight-wicket victory that will be remembered as a pivotal moment in cricket history. This remarkable win shattered all existing cricket norms and sent shockwaves through the world of the sport. The jubilant celebrations that erupted in Afghanistan transcended borders and gained legendary status, resonating far beyond the country's confines.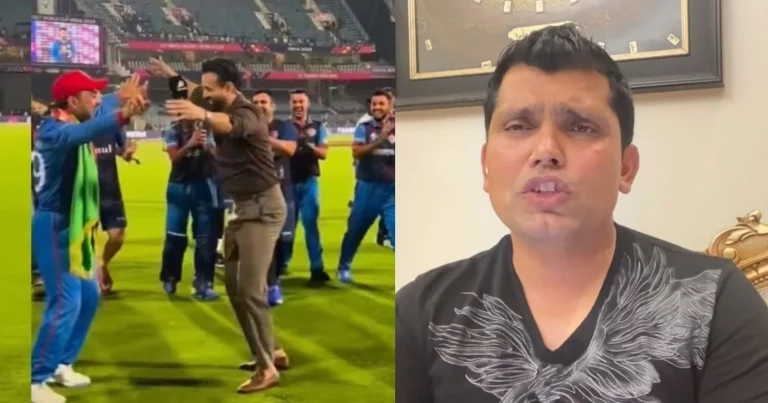 Afghanistan's cricket team's triumph transcended a mere victory; it symbolized the team's unwavering resolve. On the cricket field, the Men in Blue showcased exceptional skill, with their batting and bowling units operating in flawless synergy. The global audience marveled at their historic win, and it garnered attention not only for earning them national recognition.
The jubilant festivities extended beyond Afghanistan's borders, with cricket enthusiasts from India joining in the celebration. Their exuberant applause resonated as they honored Afghanistan's momentous achievement and subtly teased their arch-rivals, the Pakistani cricket team.
Kamran Akmal Slams Irfan Pathan On Dancing With Rashid Khan
The former Indian cricketer and current World Cup host, Irfan Pathan, got swept up in the exuberance of the crowd. His infectious enthusiasm led him to dance with Rashid Khan during a live broadcast. This impromptu celebration video swiftly gained global popularity, serving as a shining example of the strong camaraderie and sportsmanship that connect players and fans.
While Irfan Pathan's victory dance delighted many, it did not sit well with Pakistanis. Upon learning of Afghanistan's victory over Pakistan, former Pakistan wicketkeeper Kamran Akmal remarked,
"I was surprised to see Irfan Pathan dance after Afghanistan beat Pakistan. When India beat Pakistan in Australia last year, that time also this kind of happiness was not seen."
https://www.instagram.com/reel/CywLbYsywW5/?utm_source=ig_web_copy_link
He added:
 "It was sad to see, not just for me, but for the nation. The broadcasters should make sure commentators are neural."
Afghanistan's monumental victory over Pakistan transcended mere cricket; it represented a moment of unity, celebration, and shared joy among Indian and Afghan fans.