Pakistani captain Babar Azam is earning widespread acclaim for his remarkable display of respect towards the seasoned Afghanistan all-rounder, Mohammad Nabi.
During the PAK vs AFG World Cup 2023 match in Chennai on Monday, an endearing incident unfolded as Babar Azam, while at the non-striker's end after a run, found his shoelaces untied. Mohammad Nabi, the bowler at the time, noticed this and approached Babar Azam, even crouching down to offer his help in tying Babar's shoelace.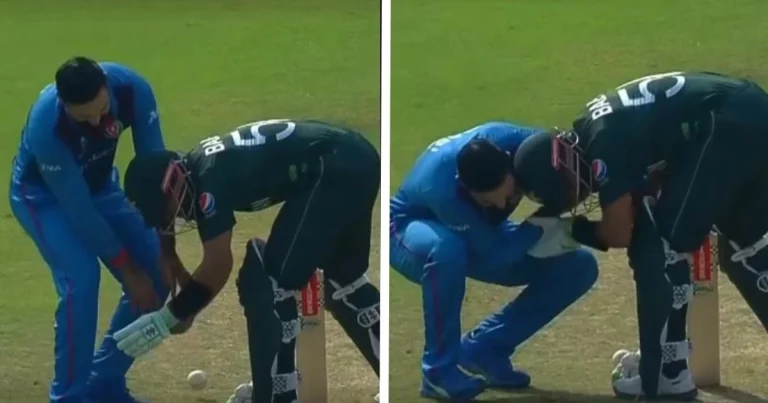 Initially, it appeared that Babar might be seeking assistance to avoid removing his gloves, but upon recognizing that Mohammad Nabi, a senior cricketer both in experience and age, was extending a helping hand, Babar declined the offer as a mark of respect for the seasoned player.
A heartwarming exchange of smiles followed, and Babar, in a gesture of mutual admiration, removed his gloves to tie his own shoelace. The video capturing this brief yet touching moment, where both cricketers displayed their deep respect for each other, quickly became a viral sensation.
Babar Azam's Noble Gesture: Declines Nabi's Shoelace Assistance
https://x.com/Hanji_CricDekho/status/1716386453834612737?s=20
The Pakistani skipper, Babar Azam, delivered a strong performance by notching up 74 runs off 92 balls, emerging as the highest scorer for his team in the match against Afghanistan in Chennai. Babar seemed poised to reach a century but unfortunately played a shot directly into the hands of a fielder at cover, leading to his evident disappointment at missing the opportunity to dispatch the ball for a boundary. Meanwhile, Shafique contributed 58 runs, and both Shadab and Iftikhar added 40 runs each, collectively propelling Pakistan's total to 282 runs.