In a truly remarkable twist of fate at the highly anticipated World Cup 2023 showdown in Delhi, the audacious move by Bangladesh's esteemed captain, Shakib Al Hasan, to stand by his appeal for a timed out against the formidable Angelo Mathews has ignited a firestorm of controversy and drawn sharp criticism from all corners. Shakib stands firm in his decision, brushing off the persistent pleas from the umpires to retract his appeal.
Marais Erasmus and Richard Illingworth, who are widely recognised as ICC Elite Panel officials, fervently beseeched Shakib to reconsider not once, but twice. In a display of unyielding determination, the resolute captain stood firm, steadfastly refusing to modify his position. As a consequence, Angelo Mathews etched his name in the history of international cricket, becoming the pioneer cricketer to be officially declared timed out.
Mathews found himself unable to prepare for his inaugural delivery within the prescribed two-minute timeframe subsequent to the preceding dismissal. The cause of the delay was identified as a malfunctioning helmet strap, which prompted the Sri Lankan cricketer to swiftly request a substitute helmet. Unfortunately, a teammate's assistance was not forthcoming until over three minutes had elapsed.
Umpire Erasmus and Illingworth engaged in an extensive discussion upon receiving the news that Bangladesh remained resolute in their appeal, leaving no room for reconsideration. In a stunning turn of events, the Sri Lankan camp was left in utter dismay as the decision was made to send Mathews back to the pavilion.
Angelo Mathews' Brother Sends A Stern Warning Of Stone Pelting At Shakib Al Hasan In Sri Lanka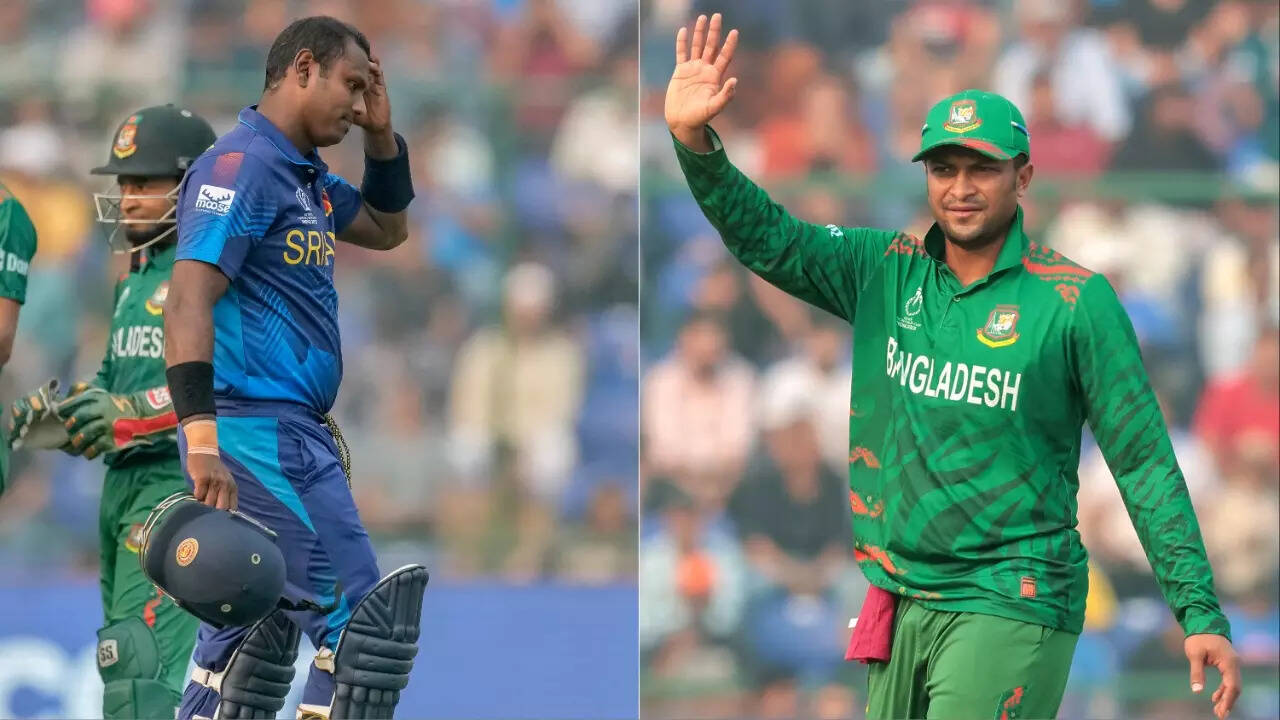 In a scathing critique, Trevin Mathews, the brother of cricket star Angelo Mathews and no stranger to the sport himself, has vehemently condemned the actions of Shakib Al Hasan. Mathews, who boasts a solid cricketing background at the club level, did not mince words as he denounced Al Hasan's conduct, deeming it a flagrant violation of the cherished principles of sportsmanship that lie at the heart of the "gentleman's game." In a post-match interview, he expressed their his, stating, "We are very disappointed. Bangladeshi captain has no sportsman spirit and did not show humanity in the gentleman's game."
We never expected this right from his captain to the rest of the team members. Shakib is not welcome in Sri Lanka. If he comes here to play any international or the LPL matches, stones will be thrown at him, or will have to face the annoyance of the fans. Angelo was within his crease in the stipulated time but it was not his fault when the strap of his helmet was broken."
The incident has undeniably loomed large over the match, sparking a fervent discourse surrounding the essence of cricket and the captain's duty to preserve it.