In the vast world of cricket, there are legends, and then there is Mahendra Singh Dhoni, lovingly known as MS Dhoni. As the former captain of the Indian cricket team, Dhoni has not only left an indelible mark on the field but has also etched his name in the hearts of millions of fans worldwide. His incredible achievements, calm demeanor, and unshakeable leadership have made him a symbol of cricketing excellence, and his popularity continues to soar, even after stepping down from international cricket.
MS Dhoni stands as a cricketing icon known for his remarkable achievements, with a particular highlight being his unparalleled success in leading the Indian cricket team to victory in all ICC tournaments. His leadership was instrumental in securing victories in the 2007 ICC World Twenty20, the 2010 and 2016 Asia Cups, the 2011 ICC Cricket World Cup, and the 2013 ICC Champions Trophy. This extraordinary feat earned him a special place in cricketing history, making him the only captain to achieve such an astonishing record.
Dhoni's legacy extends beyond international cricket. He has also been an instrumental figure in the Indian Premier League (IPL), leading the Chennai Super Kings (CSK) to five IPL titles. The Chennai-based franchise has experienced unprecedented success under his leadership, with titles in 2010, 2011, 2018, 2019, and most recently, in IPL 2023. The CSK's fanbase has grown exponentially due to Dhoni's astute captaincy and charismatic presence.
MS Dhoni's popularity among fans is not solely based on his cricketing prowess but also on his humility, grace, and down-to-earth nature. Often referred to as "Captain Cool," Dhoni's composed demeanor on and off the field has made him an ideal role model for aspiring cricketers and a beloved figure among the youth.
In IPL 2023, something extraordinary happened. Fans from all corners of India flocked to stadiums with an outpouring of support for their beloved captain. They believed this might be Dhoni's final IPL season, and they wanted to be a part of the historic moment. However, Dhoni has not officially declared his retirement from the IPL, leaving the door open for a potential return in IPL 2024. This uncertainty has only heightened the anticipation among his admirers.
[Watch] MS Dhoni Gives His Autograph On A Fan's BMW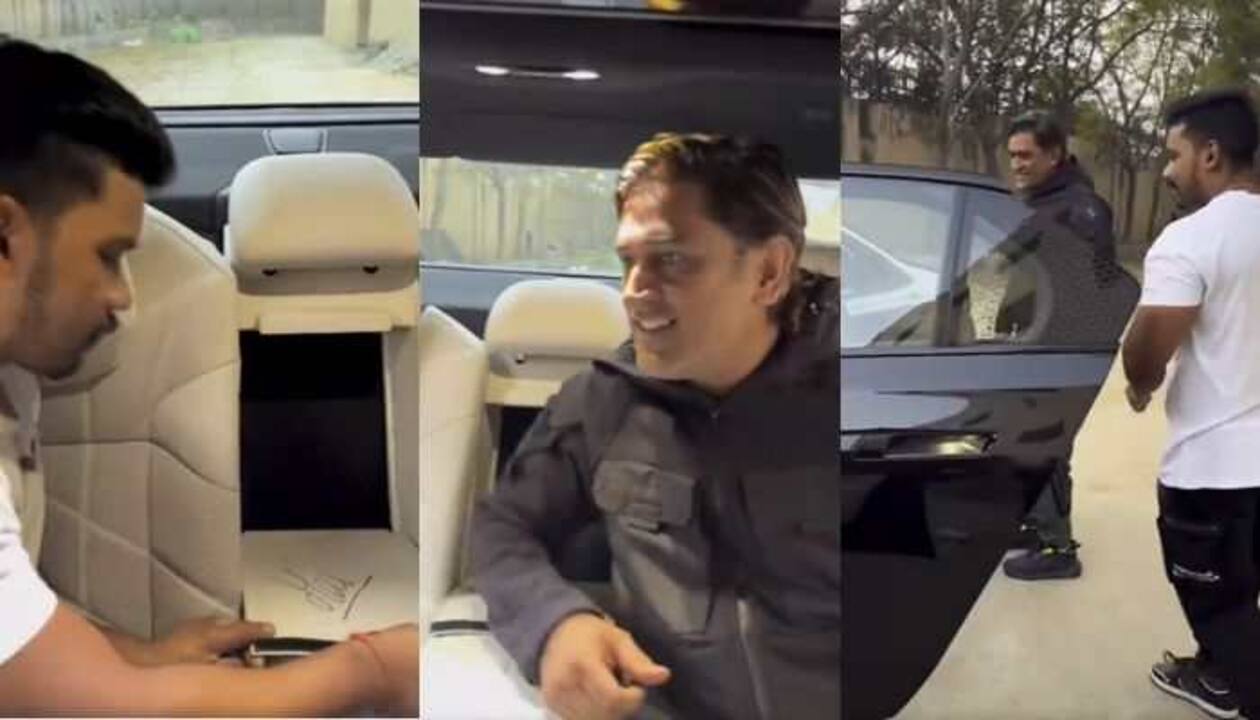 A recent video went viral, showcasing MS Dhoni's unwavering popularity and the special place he occupies in the hearts of cricket fans. The video captured Dhoni graciously signing his autograph on a fan's BMW. This small yet heartwarming gesture was proof of the enduring affection fans have for him, even after his retirement from international cricket.
MS Dhoni is not just a cricketing legend; he is a global superstar. His charisma and charm transcend boundaries, making him one of the most recognizable faces in the world of sports
MS Dhoni signing on Fan's BMW Car❤️😍

– Thala's Fandom 🤩#Dhoni #MSDhoni𓃵
🎥 abhi_veins/IG pic.twitter.com/bnvFpo64vU

— Ishan Joshi (@ishanjoshii) November 10, 2023