In a recent showdown between India and Sri Lanka at the World Cup, the young and promising Indian batsman, Shubman Gill, astounded cricket enthusiasts with a dazzling display of his skills. As he took the opening position, Gill, who had faced a challenging run in the tournament with low scores, turned the tables in a memorable performance for Team India during their seventh World Cup match, hosted in Mumbai.
Following the early dismissal of the Indian skipper, Rohit Sharma, Shubman Gill assumed responsibility alongside the cricketing legend, Virat Kohli. Together, they orchestrated a spectacular 189-run partnership for the second wicket. Their partnership not only steadied India's innings but also laid the groundwork for a formidable total.
Shubman Gill's performance was nothing short of extraordinary as he approached the coveted century mark. Sadly, his dream was shattered when he faced the blistering pace of the Lankan speedster, Dilshan Madushanka, in the 30th over. A deceptive short ball from Madushanka led to Gill edging the ball into the safe hands of Lankan keeper Kusal Mendis, who made an easy catch.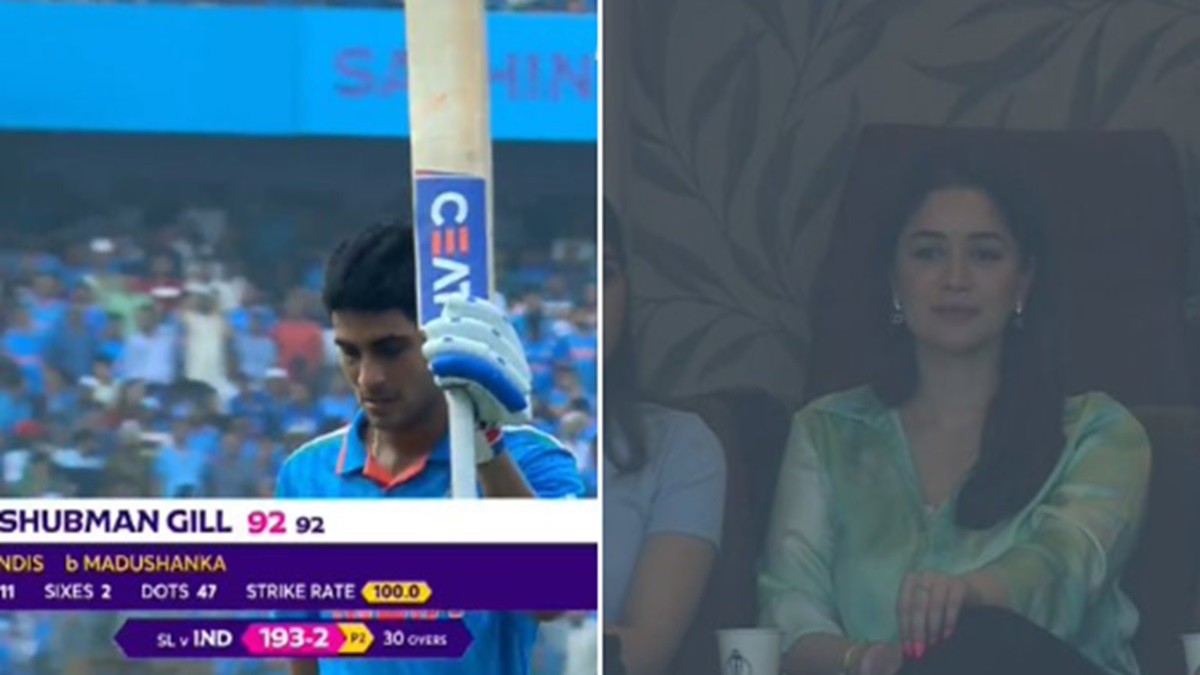 The audience's anticipation for Gill's century was palpable, and the disappointment was felt not only by the cricketing world but also by his alleged girlfriend, Sara Tendulkar. Sara, who was in attendance at the stadium, expressed her sorrow as Gill departed on the brink of reaching a century.
Sara Tendulkar, the daughter of the Indian cricketing legend Sachin Tendulkar, is well-acquainted with the pressures and emotions associated with cricket. She has been seen ardently supporting Gill and attending matches, sparking speculations about their alleged relationship. After Gill's dismissal, Sara's emotions were on full display as she was heartbroken by his untimely departure from the crease.
Sara Tendulkar Reacts To Shubman Gill's Dismissal Vs SL
However, even in her disappointment, Sara displayed incredible affection for Gill. As he made his way back to the pavilion, she stood up to applaud his exceptional performance. Her presence in the stands and unwavering support for the talented batsman were poignant moments that resonated with fans worldwide.
— Sitaraman (@Sitaraman112971) November 2, 2023