Every day, we come across different types of gimmicks from the Bollywood stars to promote themselves, which turn out to be utterly hilarious and outrageously fake in nature. These gimmicks are mostly done by the stars to ensure that they are in the news, thus attracting the attention of the public. However, most of the times, they fail in their attempt to stick to these weird changes and get back to their original glamorous image.
One such instance is the turning of former Bollywood model and glam babe Sofia Hayat into a nun, an incident that found the former Bigg Boss contestant shedding her glamourous image and hanging on to the auspicious white robe of a nun. This weird transformation took place a few months ago, which had left a number of people stunned. Watching Sofia Hayat in her new avatar, who used to be an absolute siren when it came to showing off her glamourous image on and off the screen, this transformation was too much to digest for her fans as well as the others. Sofia was even seen shedding all her clothes during the "Ice bucket challenge" Indian version.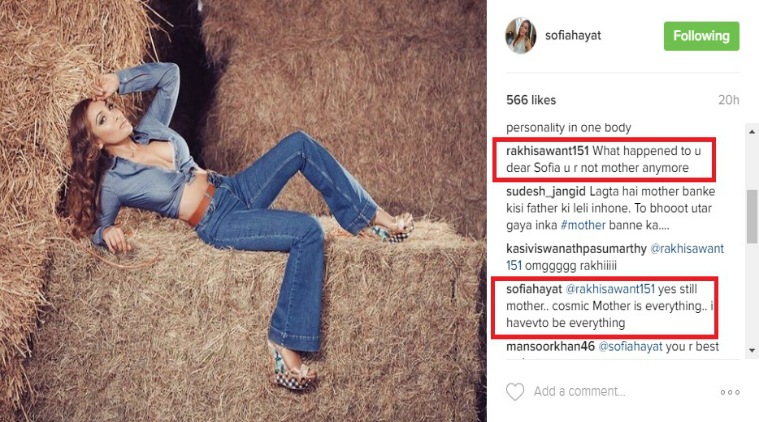 However, recently she seemed to be contradicting her transformation as she posted a new picture on her Instagram profile, The picture saw her returning to the glam avatar that we are more habituated to her in as she was back flaunting all her curves, which made ripples on the various social media platforms.
Her contradictory nature gave rise to a number of questions in everyone's mind and it was another former Bigg Boss contestant Rakhi Sawant who eventually asked her a question about her return to the glam avatar. She asked, "What happened to u dear Sofia u r not mother anymore". To this, Sofia replied, "yes still mother.. cosmic Mother is everything.. I have to be everything". This hilarious conversation left many in splits as they enjoyed this 360-degree turnaround from Sofia.