In a concerning turn of events, the internet landscape has been inundated with a wave of deepfake videos and manipulated photos, with popular Bollywood actresses Rahmika Mandanna and Katrina Kaif becoming the latest victims of this alarming trend. However, the gravity of the situation deepens as a newly discovered digitally manipulated video has surfaced, featuring none other than the renowned Bollywood actor, Kajol.
A startling deepfake video recently made rounds on various social media platforms, causing a stir among users. The video, cleverly edited to deceive, led numerous viewers to believe they were witnessing the acclaimed 'Kuch Kuch Hota Hai' star in an unexpected scenario. Investigative efforts by reputable fact-checking platforms such as BoomLive unveiled the utilization of cutting-edge artificial intelligence (AI) tools in manipulating the facial features, not only in videos but also in images, giving rise to the creation of fabricated content.
In a recent social media phenomenon, influencer Rosie Breen took TikTok by storm on June 5, 2023, with a captivating video as part of the popular 'Get Ready With Me' (GRWM) trend. The twist, however, lies in the fact that Breen's visage appears to seamlessly merge with that of renowned actress Kajol. Crafted with meticulous detail, the video showcases a mesmerizing display of outfit changes, blurring the lines between reality and manipulated content.
Deepfake Video Of Kajol Goes Viral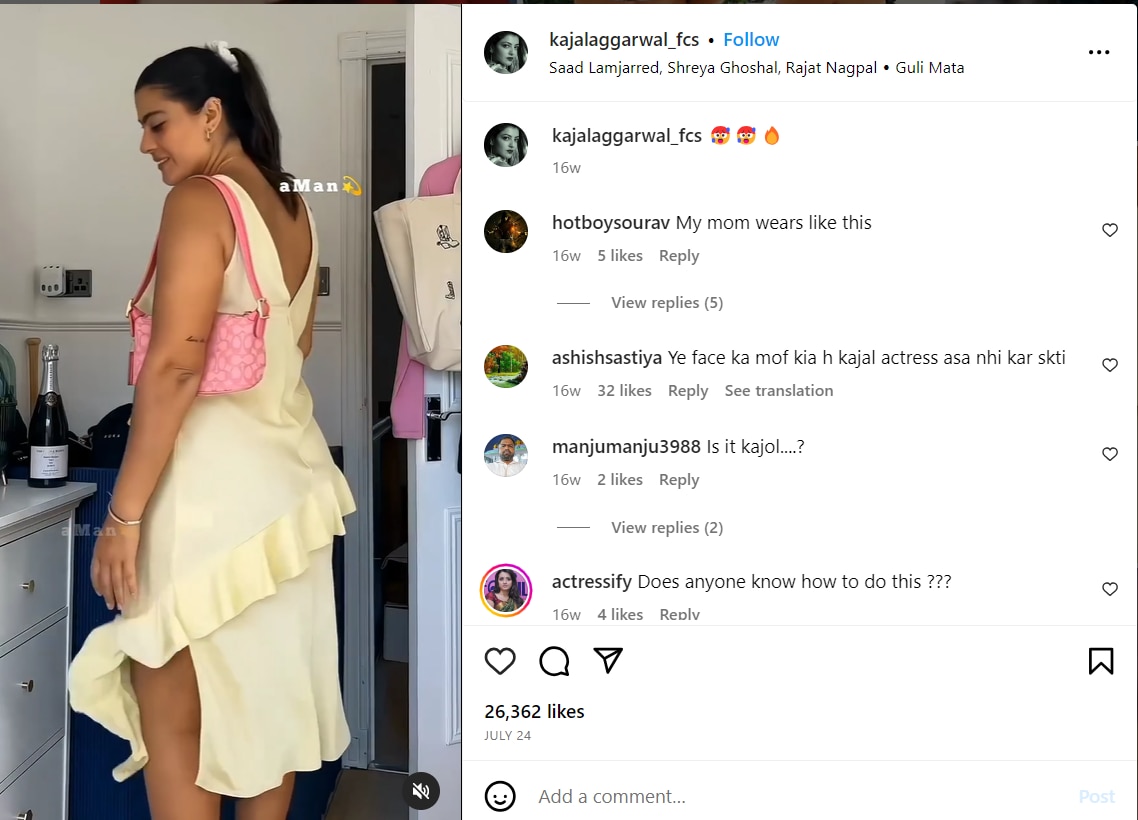 Amidst growing concerns surrounding the proliferation of deepfake technology, a video capturing significant attention has surfaced. This comes in the wake of viral videos and images featuring prominent actresses, heightening apprehension regarding the potential consequences of deepfake manipulation. Notably, in a recent development involving Bollywood actress Katrina Kaif, a manipulated image from her upcoming film 'Tiger 3' has emerged, replacing the original scene with a noteworthy transformation that has sparked controversy.
In another significant development, a captivating deepfake video featuring a mysterious woman resembling Rashmika Mandanna has surfaced. The woman, clad in an elegant black attire, gracefully steps into a lift, her face undergoing a series of morphing and editing techniques to strikingly resemble the renowned actor. This discovery has prompted a profound reflection on the disconcerting ease with which unreliable content is disseminated across various platforms, raising pertinent questions about the veracity and trustworthiness of information in the digital age.
Renowned Bollywood actor Amitabh Bachchan has joined the chorus of voices calling for legal action in response to the circulation of morphed videos online. In a recent development, popular actress Rashmika Mandanna has expressed her reaction to a certain incident, labeling it as "extremely scary."
The Delhi Police has registered a First Information Report (FIR) against unidentified individuals in the case of Mandanna. Authorities intensify their efforts to uncover the truth behind this perplexing incident. Notably, law enforcement authorities have reportedly interrogated a 19-year-old individual hailing from Bihar in relation to the ongoing case. The police's suspicion stems from their belief that this individual may have been the initial person responsible for sharing the video on various social media platforms.