Bollywood actor Aamir Khan left the showbiz world in shock after he and his wife Kiran Rao announced their divorce after 15 years of marriage. The news has shocked each and everyone and in their statement, Aamir and Kiran announced that they have been living separately for a while now. He also revealed that they are co-parenting their son Azad.
Aamir Khan and Kiran Rao first met each other on the sets of 2001 released 'Lagaan' movie in which Aamir played the lead role while Kiran Rao was an assistant director. They tied the knots in the year 2005 and it was in 2011 when they became parents through surrogacy.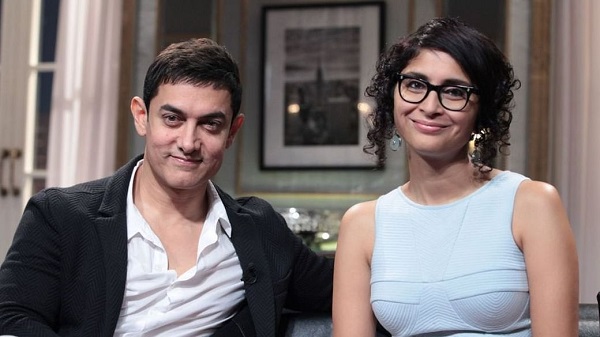 Bollywood Trade Analyst Taran Adarsh took to social media and shared an official statement released by the couple announcing their divorce. The two have been staying together for 15 years and have a son named Azam through surrogacy. The note read:
"In these 15 beautiful years together we have shared a lifetime of experiences, joy and laughter, and our relationship has only grown in trust, respect and love. Now we would like to begin a new chapter in our lives – no longer as husband and wife, but as co-parents and family for each other. We began a planned separation some time ago, and now feel comfortable to formalise this arrangement, of living separately yet sharing our lives the way an extended family does. We remain devoted parents to our son Azad, who we will nurture and raise together. We will also continue to work as collaborators on films, Paani Foundation, and other projects that we feel passionate about. A big thank you to our families and friends for their constant support and understanding about this evolution in our relationship, and without whom we would not have been so secure in taking this leap. We request our well wishers for good wishes and blessings, and hope that – like us – you will see this divorce not as an end, but as the start of a new journey.
Thanks and love,
Kiran and Aamir."
Here, check out the Tweet:
AAMIR KHAN – KIRAN SEPARATE… JOINT STATEMENT… pic.twitter.com/YlixZbvtIA

— taran adarsh (@taran_adarsh) July 3, 2021
Meanwhile, as Aamir Khan and Kiran Rao were trending on social media because of the unfortunate news that they shared with the world, on the other hand, Bollywood actress Fatima Sana Shaikh was also trending on the micro-blogging site Twitter. The reason behind the same was that many believe that she is the reason behind Aamir and Kiran's divorce and soon she will be marrying the 'Mr. Perfectionist' of Bollywood.
For the unversed, Fatima Sana Shaikh played the role of Aamir Khan's daughter in the movie Dangal, however, the rumors of their link-up started making rounds after the duo were seen together on many occasions. The buzz got even stronger when Fatima got a role in "Thugs of Hindostan".
Here, check out some of the tweets on the same:
Meanwhile aamir khan to fatima
😂🤣😂 pic.twitter.com/LP4z5PYhRg

— Rushikesh Pawar (@rrrssstttuuu) July 3, 2021
https://twitter.com/MaeStro_Khiladi/status/1411221759169241092?ref_src=twsrc%5Etfw%7Ctwcamp%5Etweetembed%7Ctwterm%5E1411221759169241092%7Ctwgr%5E%7Ctwcon%5Es1_&ref_url=https%3A%2F%2Fwww.rvcj.com%2Fheres-why-fatima-sana-shaikh-is-trending-amid-aamir-khan-kirans-divorce-after-15yrs-of-marriage%2F
#AamirKhan and #KiranRao announce their divorced#FatimaSanaShaikh : pic.twitter.com/DlRh8LQyt6

— RohanTereMemes (@rohansingh_24) July 3, 2021
https://twitter.com/AnshuBiswas3/status/1411214968737865728?ref_src=twsrc%5Etfw%7Ctwcamp%5Etweetembed%7Ctwterm%5E1411214968737865728%7Ctwgr%5E%7Ctwcon%5Es1_&ref_url=https%3A%2F%2Fwww.rvcj.com%2Fheres-why-fatima-sana-shaikh-is-trending-amid-aamir-khan-kirans-divorce-after-15yrs-of-marriage%2F
Next option for #Aamirkhan…👇

Option 1 Bakri option 2 Fatima pic.twitter.com/00Mv8DzSrv

— Nirbhay Kumar 🤞 (@ADianNirbhay) July 3, 2021
When #AamirKhan and #FatimaSanaShaikh love affair upset Kiran Rao… pic.twitter.com/VUlCaMQ6qe

— नीरज सिकरवार (@Neeraj_Singh_ns) July 3, 2021
it was expected from the day of #Dangal shooting begin!

all knows that amir khan next target is fatima sana shaik!

man is following his religion targeting 4 wives rule silently

yet nobody cares!! https://t.co/zZf5plWsZ3

— Anonymous Human / ಅನಾಮದೇಯ ಮಾನವ/अनामदेयेय मानव: (@AnaamadeyaManav) July 3, 2021