Social media has become a place for most of us to check out the pictures of some of our most favourite celebrities. They can be film stars or sports icons. While some of them are very active on social media, there are several others who keep uploading the pictures and videos of some of the special events of their lives. However, there are certain people who visit social media sites just to troll the celebrities mindlessly. It seems like they have only one aim in life, which is to objectify the stars for their clothes and behaviours. At times, they also use abusive language to vent their frustrations.
However, these days, the celebrities, especially women, don't ignore these trolls any more and provide fitting replies to shut them up. In the following lines, we will have a look at a few instances.
Mithali Raj
What a momentous day today was, standing with these special women!!@MabenMaben @AlNooshin @vedakmurthy08 pic.twitter.com/EsNwRN2G7N

— Mithali Raj (@M_Raj03) August 20, 2017
The Indian women's cricket team captain, Mitahli Raj, has had to face such idiotic trolls. She once posted a picture of herself with fellow Indian cricketer while attending a function. Someone trolled her by commenting on the picture, "sorry Smt Captain, hahaha odd looking. the fasina wet."
I m where I m because I sweated it out on d field! I see no reason 2 b ashamed f it, when I'm on d ground inaugerating a cricket academy. https://t.co/lC5BOMf7o2

— Mithali Raj (@M_Raj03) August 20, 2017
To this, Mithali replied, "I m where I m because I sweated it out on d field! I see no reason 2 b ashamed f it when I'm on d ground inaugurating a cricket academy."
Saina Nehwal
She was trolled hard after her loss to Maria Ulitina of Ukraine during the Rio Olympics. A Tweeter user posted, referring to another badminton star PV Sindhu of India. The post read-
https://twitter.com/ImAnshS6/status/766326774733033472
To this, Saina replied-
Sure thank u 😀Sindhu is doing really well 👍India is doing really https://t.co/7Sf2rztear

— Saina Nehwal (@NSaina) August 18, 2016
Priyanka Chopra
She met PM Narendra Modi in Berlin and posted a picture with him.
Thank you for taking the time to meet me this morning @narendramodi Sir. Such a lovely coincidence to be in #berlin at the same time. 🙏🏼🇮🇳 pic.twitter.com/vLzUSH5WR1

— PRIYANKA (@priyankachopra) May 30, 2017
To this, several users wrote-
However, Priyanka did not give them any replies. Sometimes silence works best to ward off idiots.
Mayanti Langer
The beautiful host who became a heartthrob of the nation later got married to Indian cricketer Stuart Binny. He was out of form while playing for Rajasthan Royals in the IPL. Some people started blaming Mayanti for that and posted hate messages. To this, she replied-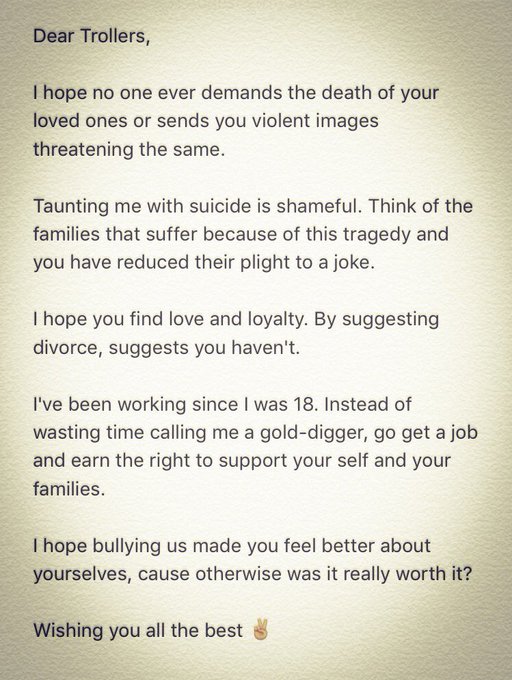 Taapsee Pannu
She has had to face such trolls quite a few times on social media. Once, someone wrote this on a bikini-clad photo of her-
Km se km social media pe aisi gndi pic mt upload kriye…gndi gndi movie bna ke desh ki young pidhi ko to brbad kr hi rhi h aaplog...
To this, Taapsee replied-
Gndi??? I knew I should've washed that sand off me. Next time I will take care. I 'aaplog' for that 🤓 https://t.co/291ePztnlP

— taapsee pannu (@taapsee) September 13, 2017