In a heart-wrenching scene, Rohit Sharma and Virat Kohli couldn't hold back their tears after India lost the final against Australia in the Cricket World Cup 2023.
Australia emerged victorious at the Narendra Modi Stadium in Ahmedabad, breaking the streak of the host nation winning the cup in the last 3 or 4 editions. The video captures the emotional aftermath of the match, with Team India's captain Rohit Sharma and star batsman Virat Kohli visibly upset, joined by many other players and fans on and around the field.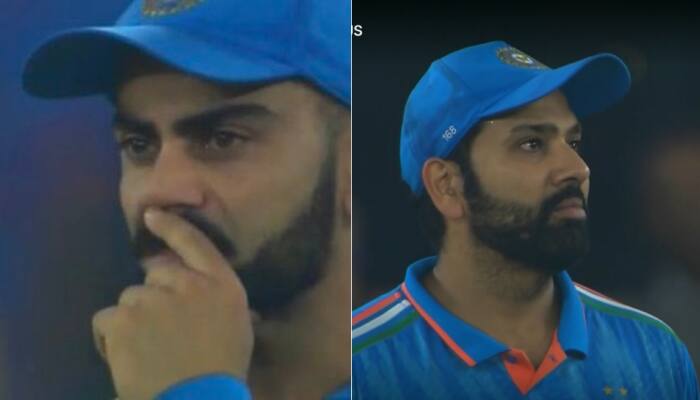 Australia's bowlers, Mitchell Starc, Josh Hazlewood, and Pat Cummins, displayed a formidable performance, restricting India to 240 runs in the final. Virat Kohli and KL Rahul's gritty half-centuries contributed significantly to India's total.
Rohit Sharma's aggressive start, including hitting a four and a six in the first over, set a promising foundation, but Australia's bowlers struck early, with Mitchell Starc removing Shubman Gill in the fifth over. Despite Kohli's impressive performance, Travis Head's stunning catch off Rohit's mistimed shot shifted the momentum.
Watch:
https://x.com/musafir_tha_yr/status/1726269038949470541?s=20
KL Rahul and Kohli attempted to rebuild India's innings, but Pat Cummins' breakthrough with a short ball against Kohli halted their progress. Kohli ended his ODI World Cup 2023 journey as the tournament's highest run-scorer with a total of 765 runs.
Watch:
https://x.com/100rabhsingh781/status/1726269225227211032?s=20
Ravindra Jadeja and Rahul steadied the ship for India, reaching the 200-run mark in the 41st over. However, as the ball started to reverse swing, Australia's pacers found more assistance, leading to the fall of crucial wickets.
Josh Hazlewood's dismissal of Jadeja in the 37th over marked a turning point, and India lost wickets in quick succession, eventually being bowled out for 240 in 50 overs. The loss left Rohit Sharma, Virat Kohli, and the entire Indian team in a somber mood, ending their Cricket World Cup 2023 journey on a poignant note.