Thanks to Twitter, every other person is a stand-up comic and jokes are being dolled out in 140 characters or less. While some manage to tickle our funny bones, others end up making us wonder, "Was I supposed to laugh?"
Just when you were thinking jokes can either be "funny" or "not funny", a whole new category gets tossed around. Jokes that are way too bad to be called good but surprisingly funny to not laugh at. Yes, they do exist!
So bad that they're good, these sorts will make your stomach ache along with making you wonder if you're too dumb to enjoy them? Nevertheless, as long as you've that smile on your face, the creators of these #PJs rest happily in their graves.
Having listed 20 so-bad-they're-good jokes from Twitter, we're all set to make you go majorly ROFLMAO!
Check 'em out:
Makes sense!

Never looked at it like that.

 Want to own one?

So are a few humans.

*Pun Intended*

Wondering if he was hired?

Ahem ahem!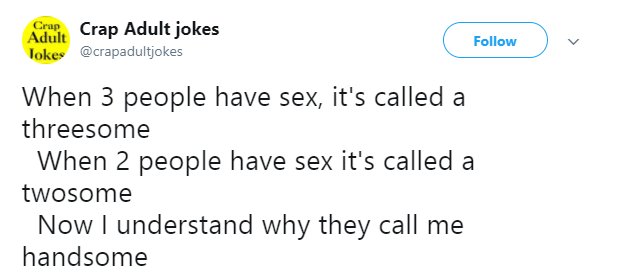 True story.

Like seriously?

Who came up with this, man?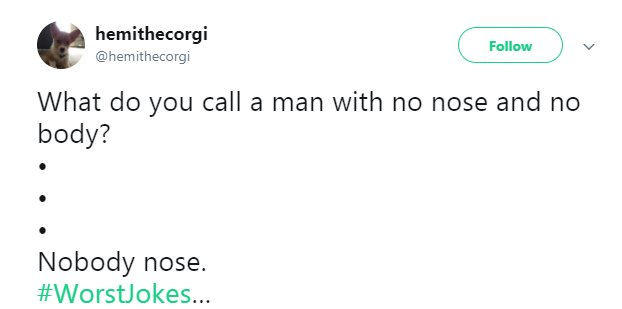 Still trying to figure it out.

Let me planet.

Don't know if it's funny but tasty for sure.

You can always see one of these around.

So is that what it meant all this while?

Tale of every married couple.

And yummy too!

No comments.

So am I.

They scare everyone.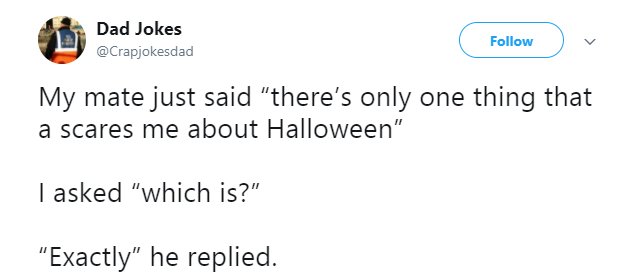 Enjoyed? Come on! You can laugh. We won't tell anybody. *wink*