It is nothing new to find people who hurl abuses at others on the various social media platforms in the current scenario. Most of the times, women are the prime target of these people and they attack them viciously with the worst possible words available. It is really hard to understand how these people get the audacity to come up with this type of derogatory remarks towards women, especially with the whole world watching them on social media.
A similar incident took place recently when a female Twitter user was hurled abuse at by another user. It was seen that the person kept abusing the Twitter user whose name is Aanchal Agarwal. He compared her with a prostitute and accused women like her for being the reason for the current crisis faced by India.
In reply, Aanchal showed her funny side in a brilliant way and ensured that her reply shut the abuser forever. This is the dialogue between the two Twitter users.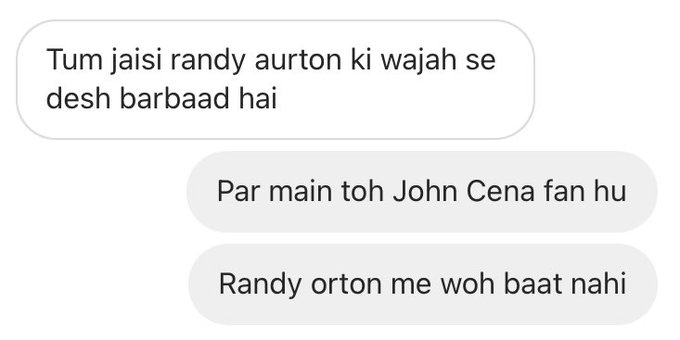 The Twitterati applauded Aanchal's effort as her timeline was flooded by appreciation messages and posts. They also protested against the abusive language used by the other Twitter user and lauded Aanchal as she chose to stand up and fight against the abuse thrown at her rather than running away from it. People were also critical of the wrong usage of the internet at the hands of people who don't know how to use it responsibly.
how do you take this with such good humor

— abhi (@rajabhi_1) October 15, 2020
I don't know how a person can have the audacity to talk like this to a girl… I can't even ask extra ketchup

— Ahmed Raza (@wRaza_8) October 15, 2020
You should get an award for this. Humour at its best.
"Take criticism seriously, but not personally. If there is truth or merit in the criticism, try to learn from it. Otherwise, let it roll right off you." – Hillary Clinton

— Yugandhar shinde (@_YugandharS_) October 15, 2020
Yeh woh hai jinke liye india me data rate nominal nahi karne chahiye they govt ko .yeh woh hai jinko kabhi bhi koi achhi cheez mat batao yeh usko bigad denge

— A.I. (@_iGod) October 15, 2020
The following two tabs change content below.
Latest posts by Debalina Chakraborty (see all)